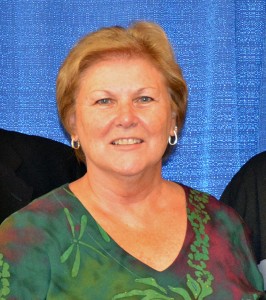 The MWCC community, along with friends and family, joined together on May 29 to wish Sharyn Rice a happy and healthy retirement after 25 years of service. Rice, who is currently serving as Senior Vice President will retire on June 14.
Rice joined MWCC in 1988 as a diagnostic developmental specialist and adjunct faculty member, teaching students with learning disabilities and special needs. Since then, she has moved throughout the college in a variety of positions. MWCC President Daniel M. Asquino alluded to this point at the farewell gathering by asking the guests, "How many of you have answered to Sharyn Rice?" The hands that rose up in response were abundant, and it was a true testament to how many people Rice has worked with, and how many programs she has impacted.
Throughout her years at MWCC, Rice previously served as the director of a variety of programs, assistant dean of training at Shriver Job Corps, vice president of community and foundation development, and senior vice president of advancement and external affairs before stepping into her current position overseeing the Division of Access, Transition and Development.
As a lifelong ambassador of education, Rice has been an active member in community relations and volunteer work. Her many roles have included, board chair for RCAP solutions, conference chair for the Massachusetts Educational Opportunity Association, legislative coordinator for the National Council of Educational Opportunity Associations, co-founder of the Team for Services for Students with Disabilities and National Conference Steering Committee Member of AHEAD (Association on Higher Education and Disability). Most recently, Rice served as coordinator and co-chair for "Voices for Change," a program initiated as an alliance between MWCC, The SHINE Initiative, and 14 mental health stakeholder organizations. As a result of her success, Rice was honored with the SHINE Initiative's "Community Hero Award" in November 2011 and won Worcester Business Journal's Outstanding Women in Business Award in 2012.
In addition to supporting many educational causes, Rice has also been an advocate for the local business community. As chair of the board of directors for the Wachusett Chamber of Commerce, Rice was a driving force for strategic planning, government relations, governance and fundraising. She was an active member of AppleArt, a successful public art project created by the Chamber and the Clinton Hospital to raise funds, support tourism and enhance economic development efforts throughout the region.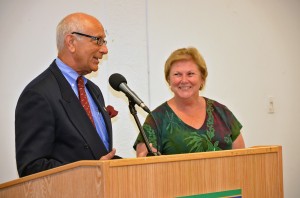 Asquino spoke of Rice's extraordinary accomplishments and expressed gratitude on behalf of himself and the entire MWCC community for all of her hard work. As a token of appreciation, Asquino announced that next year will start the first annual Sharyn Rice Scholarship. This scholarship will be awarded to a student who shows a strong passion for civic engagement and community relations, just as Rice always has. "Words cannot express our gratitude to Sharyn Rice for her endless hard work and persistent community engagement. Mount Wachusett Community College is a better and stronger college because of Sharyn Rice."Additional speakers at the farewell gathering included Vice President of Access, Transition and Development Lea Ann Scales, long-serving community volunteer and Senior Vice President for Commercial Lending and Business Development at Enterprise Bank Raymond LaFond and RCAP Solutions President & CEO Karen Koller. When describing Rice as a worker, Koller said, "You can't clone Sharyn Rice. A thoughtful, kind and insightful leader is a rare thing to find…but I wish I could clone you."
Upon retirement, Rice plans to spend time with family and friends in Maine. She said she is grateful for every day and every experience throughout her time at MWCC. She wishes to maintain a lifelong connection to MWCC and to her many community contacts. When asked if she is going to take some time to relax, she laughed and said, "My life is long, but the list of things that I want to do is longer."
-Stephanie Nebes