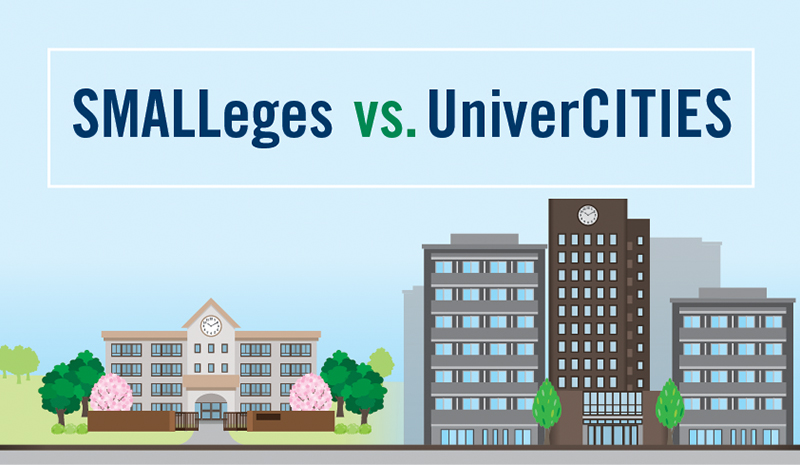 For most students, the search for the "perfect" college begins by the time they enter junior year. For some, even before that.
Bombarded by parents, teachers, and social expectations, students begin applying to colleges and universities hoping to be accepted without giving much thought as to whether the school will be a good fit for them.
Why Students Flock to "Univercities"
Many students looking for schools tend to gravitate towards bigger universities because of the belief that they are "better". Some national universities even have well-known names, NCAA sports teams, and leading academic and scientific researchers. Certainly, they offer students many academic program choices. And some students may think that big schools are more "fun" simply because there are more students on campus.
Benefits of "Smalleges"
Alexandria Faneuf, a student in her second year at the Mount, said, "At small schools, you get the benefit of knowing your classmates because you have classes together, or you have mutual friends. This will result in a sense of community and make you happier and more comfortable on campus."
Smaller colleges can also be beneficial to students who enjoy a hands-on learning environment. With smaller class sizes, students get the opportunity to practice techniques instead of observing from afar. Smaller classes also allow for students to form relationships with their professors and classmates.
Jacob VanHillo, 2018 Business Administration graduate, said "He's always been there for me, he's always super helpful when I need him," about his favorite business professor at Mount Wachusett Community College. "He's even offered to help me put together a resume to help me get into the business world. And his classes are super fun, too."
When students go to smaller colleges they get the benefit of learning directly from their professors instead of from graduate student teaching assistants who may instruct undergraduate classes at larger universities. At a smaller school, professors can become the mentors students go to for help and advice. "You have the opportunity to have a conversation with your faculty, you have the opportunity to use your resources," said Candace Shivers, Associate Professor of Sociology and Human Services at Mount Wachusett Community College. "You think you like something? Have a conversation with a faculty member in that field and see if you really want to do it."
What to Focus On
What makes a student have an enjoyable and successful experience at college?
For students who feel at home at larger universities, it may be the buzz of being surrounded by their peers. Or that there are more clubs and opportunities to get involved on campus.
For students who thrive at a smaller college, it may have to do with whether they are receiving the help they need and feel a sense of belonging on campus. Students may also want to look into small colleges because of the sense of community they offer.
With pros and cons on both sides, students should think about what they plan to get out of college before picking one. Students tend to get fixated on factors such as location, acceptance rate, prestige, social opportunities (both professional and personal), dining halls, and dorms, while the factors that are most important are often overlooked.
Getting to know the campus culture and making sure it is one that will promote success is a crucial step in finding the perfect school. Students should emphasize their search and focus on programs of study, class size, academic goals, personality, affordability, and if the resources they need are present on campus. When all these details are considered, students can make the best decision.
Choosing the perfect college requires self-reflection. Too often students rush into expensive schools that aren't the right fit for them, or get overwhelmed and don't continue their education at all. By taking a step back to decide what they want and need, they can find a school that will provide them with the opportunities and resources needed to be happy and successful.
Starting at Community College
What's great about a community college is that it allows students to figure out what they want to do, transition socially and academically to college, and offers an affordable way to complete general education requirements before transferring to a four year "smallege" or "univercity."
"I feel like, when students transfer to a 4-year school and they come back to an Alumni event, they miss us – not just because we've made good connections with them, but I feel like sometimes when they leave and go to a bigger college, that they become a student number and there's not that personal touch that we have here," said Professor Rosanne Morel, chair of the Education Department at MWCC.
"Oftentimes students think 'I'm not going to fit in'. A lot of students have low self-esteem, especially that first semester. Because they're not sure 'where do I stand?' 'what can I do?' 'what can I not'?" said Sharmese Gunn, Senior Resource Specialist for the Gateway to College program at MWCC. "Then students realize 'wow, I can't believe that I already completed my first semester and it flew by' because it's home, and we build that community, that sense of caring for students where they know that, 'ok, I can go to this person', 'I can go to that person', and it really becomes family."
"The first step in getting involved in education is coming and putting in your application," said Shivers. "There's a saying that 'you can't win the lottery unless you play' – you can't get educated unless you put in your application to come to college. And then the rest of it is up to the people that are here to get you to where you need to be."
---
About the Author: Aisha Schor is a Media Communications major at MWCC. She is a contributing writer for the News Center.