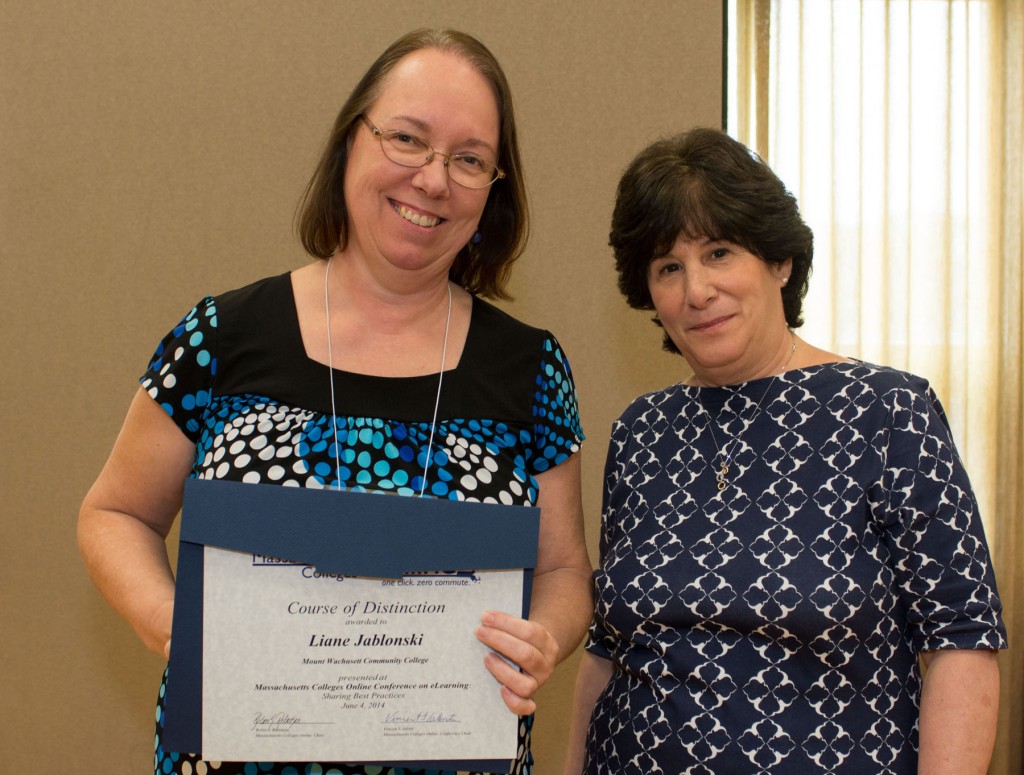 MWCC instructor Liane Jablonski was recently recognized with a Course of Distinction Award from Massachusetts Colleges Online for her online course, "Introduction to Sociology."
A resident of Rindge, N.H., Jablonski received the award during the consortium's 10th annual eLearning Conference, held this spring at Bridgewater State University.
More than 2,600 courses are offered through MCO, a consortium of the 15 community colleges and seven members of the state university system in Massachusetts. The MCO Course of Distinction (COD) award is named after the Bay State's unique association with the "Sacred Cod," and the contributions that the fishing industry made to Massachusetts economy in the early years of its history.
"The award recognizes faculty from throughout the state who have developed and teach innovative and exciting online courses," said Dr. Vincent Ialenti, dean of Academic and Institutional Technology at MWCC. "These courses are representative of the best uses of eLearning instructional tools to enhance student success." The award's name was selected to recognize the contribution that MCO's members and eLearning make to the state's economy in the 21st century.
In addition to accepting a cod fish replica pitcher and certificate at a special luncheon at the conference, Jablonski presented information about her course as part of the conference's Best Practices Showcase.
MWCC Assistant Dean of Curriculum and Instruction Michele Paranto described Jablonski's course as "Exemplary in its use of the learning modules to scaffold and facilitate student learning and engage students in the course material."
In her course, Jablonski built discussion boards that encourage students to take ownership of their learning, to communicate and collaborate with each other and to master the content. In addition, she maximizes course communication to create and maintain a consistent instructor presence within the course that fostered positive online relationships with students, Paranti said.
Jay Bhatt, president and chief executive officer of Blackboard, Inc. delivered a keynote address to the 250 conference attendees, focusing on the role of online and classroom technology in education's future, the impact on teaching and learning, and the expectations of 21st century learners.