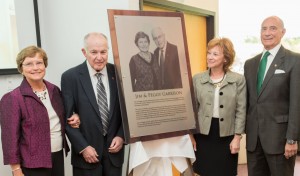 Prior to MWCC's 50th Commencement ceremony, college and local officials paid tribute to Jim and Peggy Garrison for their generous support over the past several decades to the college and students.
Named in their honor, the Garrison Center for Early Childhood Education on the Gardner campus serves as an educational setting for college students as well as a preschool in collaboration with the Montachusett Opportunity Council. The center will be adorned with a plaque commemorating their gifts.
"Jim and Peggy Garrison epitomize the essence of what it means to be caring, engaged citizens in a democratic society. They give freely of their time, talent, and resources to philanthropic efforts that advance humankind," the plaque reads.
"This Center is named in recognition of their generous gift toward the construction of the facility and their additional gift of $1,000,000 for scholarships to students who study in the field of early childhood education. It is their belief that those who care for our precious children deserve to have all barriers to higher education eliminated. Further, they correctly believe that the foundation to success and compassion begins in the early years and that children have the right to be supported by parents and caregivers who are keenly interested in their development.
Jim and Peggy Garrison will be forever instrumental in the success of our city, our community, and our nation by their efforts to nurture the development of compassionate and engaged human beings from their formative years forward."