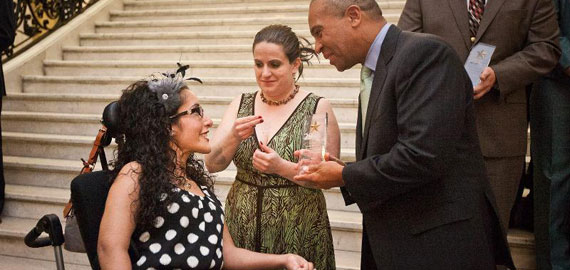 MWCC student leaders Caroline Horvitz and Isaac Matson were honored as members of the All-Massachusetts Academic Team during a recognition ceremony at the State House on May 8. The Phi Theta Kappa honor society, community college presidents and the Massachusetts Community College association sponsored the event.
The ceremony included remarks from Department of Higher Education Commissioner Richard Freeland, State Representative Tom Sannicandro, chair of the Joint Committee on Higher Education; Gretchen Manning, deputy director of the Massachusetts Community Colleges executive office; and Robert Caret, president of the University of Massachusetts.
Two days later, Horvitz returned to the State House to participate in the second annual "29 Who Shine" awards ceremony, sponsored by the Massachusetts Department of Higher Education.This award honors 29 outstanding public college and university graduates, one from each community college, state university and UMass campus in the state, for their academic achievement and community service.
Horvitz has served this past year as Student Trustee on MWCC's Board of Trustees. A Liberal Arts major, she is a member of the Phi Theta Kappa honor society and the Commonwealth Honors program. She also previously served on the Student Government Association. She is transferring to Mount Holyoke College this fall to continue her studies in medieval history and Latin.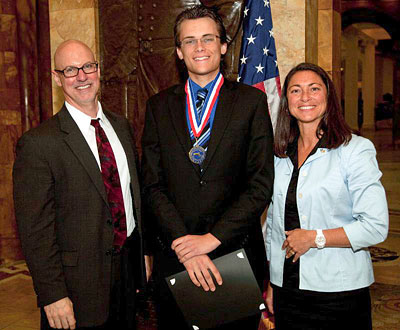 Matson, a Criminal Justice major, served the past year as president of the Student Government Assocation and previously as vice president, as well as on the Crusade 4 Christ club and other campus organizations. He is transferring to Westfield State University this fall to continue his studies.
Pictured: Top, Governor Deval Patrick presents the 29 Who Shine Award to MWCC Student Trustee Caroline Horvitz, with interpreter Cheryl Lauricella, an MWCC alumna. Bottom: SGA President Isaac Matson, with state Representative Tom Sannicandro, chair of the Joint Committee on Higher Education, and Robin Duncan, MWCC vice president of Marketing and Communications, during the All-Massachusetts Academic Team Recognition Ceremony.