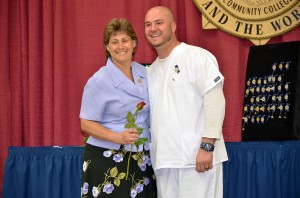 It was a vision in white as dozens of excited graduates were welcomed into the nursing profession during Mount Wachusett Community College's 40th annual pinning ceremony, held in the college's Fitness & Wellness Center on May 17.
The 124 graduates who made up the Nursing Class of 2013 include students enrolled in the day and evening associate degree programs, as well as licensed practical nurses who returned to MWCC in the bridge program to further their education to obtain licensure as registered nurses.
In addition to completing a rigorous academic program, many students in the class managed homes and families, worked full-time or part-time jobs, participated in meaningful service learning projects and performed a variety of community service activities.
President Daniel M. Asquino and Eileen Costello, dean of the School of Health Sciences and Community Service Programs, delivered welcoming remarks to the graduates and to the hundreds of family members and friends who came to celebrate with their graduates. Graduates Antonio Campagna and Jessica Parsons sang the National Anthem at the ceremony and received a standing ovation from the audience.
"This is a significant milestone," President Asquino told the graduates, and encouraged them to "rejoice" in their achievement and remain committed to continuing their professional development in the years ahead.
MWCC Nursing Professor Jean Silberzweig delivered the keynote address, noting that a Gallop poll ranked nurses first for honesty and ethics among a number of professions.
"People trust nurses. We are perfect strangers to our patients. We are allowed to share in their most difficult or maybe the happiest time in their lives. They depend on us to know and do what is right."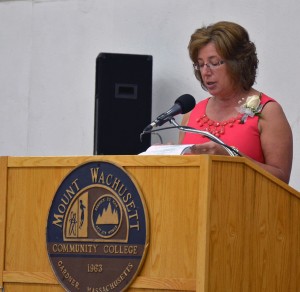 Some of the graduates opted to wear the original customized MWCC nurse uniforms while others wore the traditional nurse scrubs, the students were welcomed into the profession by having the program's nursing pin fastened to their lapels by a family member, friend, or an alumnus of the program, or a faculty member, to the cheers of family and friends. The pin symbolizes where the nurses completed their studies to become an RN and distinguishes them from other health care professionals. The eight-star MWCC pin is imprinted with the words "Service to Humanity and the World."
As a finale to the ceremony, the students recited the nurses' pledge, which that dates back to Florence Nightingale.
For more photos, visit MWCC's Facebook page.