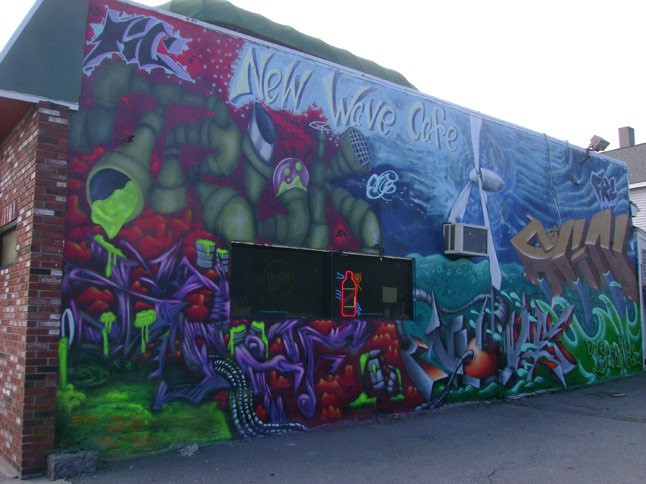 The Art Student Lecture Series, sponsored by MWCC's Art Department, continued this fall with presentations on creating large-scale murals and marketing oneself as an artist.
"Like it or not, you're in the sales business," explained art major and self-starter Isabella Bourque, who presented "How to Market Yourself as An Artist" in December. "This is the presentation I wish I would have seen before I started selling artwork," said Bourque, who noted that local, domestic and international pottery sales comprise one-third of her total income.
After purchasing an inexpensive kiln on Craig's List, Bourque created a home studio, where she produces artwork for sale at commercial and rental galleries, commission shops and street fairs, as well as on Etsy. She similarly encouraged MWCC students to diversify their selling platforms, citing the Leominster Art Center & Gallery and the Gardner Area League of Artists as ideal venues for beginning freelancers.
By leveraging social media platforms and creating an online portfolio through Carbonmade, Bourque said she was better able to promote her work and make connections. She discussed the importance of establishing an online presence, obtaining a unique domain name and creating business cards.
Bourque, who also works as a graphic and web designer for WS Beauty Supply, also offered financial guidance, highlighting the need to maintain consistent prices, account for hours of labor, anticipate overhead costs and challenges, set aside profits and cater artwork to individual target markets. She will graduate this semester with an Associate Degree in Art.
Fall presenters also included Ben Mikles, who has extensive experience painting large-scale murals in many venues, both temporary and permanent using spray paint and brushes. Mikles spoke about his technique, materials, and process.
The Art Student Lecture Series was launched during the spring 2014 semester, with presenters Jennifer Mondestin, who discussed her recently published graphic novel and other commissions; Dylan Safford, who presented on digital painting using Photoshop; Robert G. Osborne who discussed his three decades experience as an artist and gallery owner in New York City; and Corinne Goodrich, who demonstrated plein air painting techniques.
– Cameron Woodcock