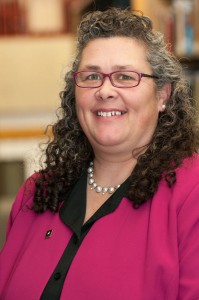 For her dedication and commitment to serving others, Mount Wachusett Community College student leader Kathy Matson has been presented with Campus Compact's national 2014 Newman Civic Fellows Award.
A Business Administration major, Matson represents college students across Massachusetts in her role as the student member on the Massachusetts Board of Higher Education, and as a liaison between the board and the state-wide Student Advisory Council, on which she also serves. As a member of the Board of Higher Education, she advocates on behalf of students across the Commonwealth for public policy changes that will impact the ability of students to succeed in higher education. Two policy issues she has helped champion include the restructuring of the math sequence and the integration of civic education at all 29 public colleges and universities across Massachusetts.
In addition to working two jobs and consistently making the President's List and Dean's List, the Baldwinville resident has provided more than 400 volunteer hours to various organizations and student groups during this academic year alone. She serves as president of MWCC's Student Government Association, as an officer in the Phi Theta Kappa and Alpha Beta Gamma honor societies, as a Student Ambassador in the Admissions office, as a SALT Ambassador in the Financial Aid office, as a mentor with the Students Serving Our Students office, on the MWCC Alumni Association, and is an active volunteer with numerous Student Life events. She is a second time MWCC student, having first earned an associate degree in Criminal Justice in 1985.
"We are extremely proud of Kathy for her leadership on campus, at the state level, and in the community," said MWCC President Daniel M. Asquino. "We are delighted that she has been recognized with this distinguished award. As a student leader, she serves in many capacities and diligently works on behalf of students throughout the Commonwealth. She has a true passion for helping others."
The Newman Civic Fellows Award recognizes inspiring college student leaders who have demonstrated an investment in finding solutions for challenges facing communities throughout the country. College and University presidents nominate student leaders representing the next generation of civic leaders. This year, 197 students from 36 states received the national award.
The award is named for educator Frank Newman, co-founder of Campus Compact, past president of the University of Rhode Island and author of Higher Education and the American Resurgence. Since 1985, Campus Compact has grown to represent more than 1,100 college and university presidents committed to fulfilling the civic purposes of higher education.
"Being named a Newman Civic Fellow is an amazing honor," Matson said. "I received this recognition for my civic engagement and volunteerism, but being civically engaged and volunteering is a way of life for me and not something that I do for recognition. I am appreciative to the president, staff and peers at the college who submitted my nomination. They have all been an inspiration to me during my time at MWCC."
Matson's ability to be a strong advocate for students make her an exceptional role model, said Fagan Forhan, director of MWCC's Center for Civic Learning and Community Engagement.
"Kathy is an excellent illustration of what it means to be an engaged student and citizen, and exemplifies hard work and determination. She provides alternative perspectives and a strong clear voice as an advocate for herself and others. Kathy is not afraid to be the dissenting voice in a discussion and is always willing to engage in dialogue and debate about important social issues facing our students. Her no nonsense attitude serves her well in this capacity as she empowers other to make positive change in their lives."
Outside MWCC, Matson is an active volunteer within her community, including serving on the Templeton Community Emergency Response Team as administrative assistant to the Emergency Management Director. In addition, she also volunteers her time to maintain a database of over 4,500 families and volunteers for MassHOPE, the Massachusetts Home School organization.
She and her husband Calvin have three grown sons who are also alumni or current students at MWCC and are entering military service. Prior to returning to MWCC for her second degree, Matson was a stay-at-home parent who home schooled her children for 22 years.
This is the second consecutive year a Mount Wachusett has received the prestigious recognition. In 2013, Human Services major and student veteran Bryan Sanderson of Lunenburg received the award for his initiative founding the Students Serving Our Students peer mentor program.