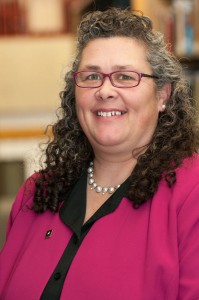 The state Department of Higher Education will spotlight top students from across Massachusetts at the fourth annual "29 Who Shine" student recognition ceremony on Thursday, May 8, at noon at the Grand Staircase of the Massachusetts State House. The award honors 29 outstanding public college and university graduates, one from each community college, state university and UMass campus in the state, for their academic achievement and community service.
Kathleen A. Matson, a highly regarded student leader on campus and across the state who will earn an associate degree in Business Administration in May, is among the honorees.
A motivated, enthusiastic leader with a passion for helping others, Matson has served this academic year as the student member on the Massachusetts Board of Higher Education. As a full voting member of the board, she provides a voice for all public higher education students on issues such as affordability and college completion. During her term, she represented Massachusetts during a Student Voices conference in Washington, D.C., joining peers from across the country in a meeting with U.S. Secretary of Education Arne Duncan to discuss ideas and concerns regarding higher education.
A member of the state-wide Student Advisory Council, Matson serves as a liaison between the council and the BHE. She has served on MWCC's Student Government Association for two years, including the past year as president.
Matson earned an associate degree in Criminal Justice from MWCC in 1985, and then worked in the private security field for many years. In 2012, she returned to the college to pursue a business degree to combine her interest in these two fields. An exemplary student, she has consistently been recognized for her academic achievements as a President's List and Dean's List honoree.
In addition to working two part-time jobs and volunteering for her community, Matson has provided more than 400 volunteer hours to various campus organizations and student groups during this academic year alone. Among her many activities, she holds officer positions with the Phi Theta Kappa and Alpha Beta Gamma honor societies, volunteers as an ambassador in the admissions office and as a mentor in the Students Serving Our Students (SOS) office, serves on the MWCC Alumni Association Board, and assists the campus community as a work study student in MWCC's Center for Civic Learning and Community Engagement. For her dedication and commitment to serving others, Matson was recognized earlier this year with Campus Compact's national Newman Civic Fellow Award.
She and her husband, Calvin, have three sons: Isaac, who graduated from MWCC in 2012, served as SGA president and is now completing a bachelor's degree in Criminal Justice at Westfield State University; Caleb, a Criminal Justice major, and Zechariah, a Fire Science major, who will both graduate from MWCC this year. All three sons are serving in the military.
The ceremony will also include recognition of each honorees' faculty and staff mentors. Matson selected Associate Dean of Students Gregory Clement as her mentor.
"Greg has been a constant mentor and friend. He has always been there encouraging and helping me to attain goals I never thought possible. He has been instrumental in my success as a student leader, continually guiding me to broader horizons."
Whitney Doucet, a 2013 graduate of MWCC, has been chosen to perform "America the Beautiful" during the ceremony. The outgoing, upbeat performer grew up in Leominster and discovered her love for music at a young age, particularly country music. She has been pursuing her passion for singing and performing since 2005 is a voice teacher in Boston and Worcester.
In May 2011, the Massachusetts Department of Higher Education launched "29 Who Shine," a program to recognize outstanding students representing each of our 29 public campuses. The honorees, chosen because of their academic achievements and record of student leadership and community service, stand poised to contribute greatly to the civic life and economic well-being of the state. Whether furthering their education or entering careers here in Massachusetts in fields as diverse as education, public policy, medicine, creative arts, and engineering, they truly embody the vibrant future that we all envision for the Commonwealth.