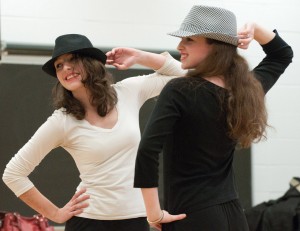 Theatre, voice and dance students showcased their talents in end-of-semester performances this month.
Students in Jerianne Warren's Musical Theatre Dance Styles presented a variety of dance styles and choreography, ranging from Broadway hits to contemporary artists, on Dec. 10 in the dance studio.   
On Dec. 13, students in the Introduction to Acting class, taught by Michael McGarty, performed scenes and monologues in the theatre, and students in Becky Ufema's Voice class performed a recital in the Fine Arts Center lobby.  
Pictured:  Student Clare Margand, right, enlisted the help of her sister, Nina Morgand, while performing a tap number to the Pink Panther theme song during the dance showcase.