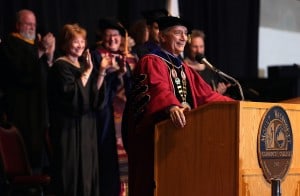 The transformative power of service and volunteerism was the resounding theme of Mount Wachusett Community College's 51st Commencement on Wednesday, May 18, from the 157,000 service hours completed by students this past academic year to the decades-long legacy of President Daniel M. Asquino.
This year, 810 associate degrees and certificates were awarded to 734 graduates. The ceremony will be remembered as the final commencement President Asquino will preside over before retiring early next year.
Tina Sbrega, chair of the Board of Trustees, led a tribute to the president, who received a standing ovation in recognition of three decades at the helm of the college and nearly 50 years in public higher education in Massachusetts.
Since his arrival in 1987, he has established the college as a state and national leader in a number of key areas, from workforce and economic development to K-12 partnerships. Above all, Ms. Sbrega said, is the lasting legacy he will leave in the area of incorporating civic engagement as a hallmark of MWCC.
"He will be remembered most for having brought our community together for the good of all," she said. "Throughout his 47 year career in public higher education in Massachusetts, Dr. Asquino has been driven by the belief that education is society's great equalizer and has spent every moment of his career devoted to all of you and the tens of thousands of graduates who came before you."
In delivering the commencement address, President Asquino reflected the accolades back to the students, faculty, staff and alumni for their hard work and commitment, personally and collectively.
"This is an amazing, transformative, magical college. Lives change here like nowhere else."
He encouraged the students to enjoy life's celebrations, and manage challenges and setbacks as an opportunity to "pick yourself up, and move on."
Among the life lessons he shared, he advised the graduates be flexible to adjust to the ups and downs of life's circumstances and to be mindful that "life is a merciless reflection of your own attitude."
"There is no balanced allocation of good fortune or failure. The question then is when you are confronted with disappointment, tragedy, discrimination, how do you handle it? It's OK to momentarily feel distraught and sad…but then you need to, as difficult as this may be, pick yourself up and move on. Let us be the person who sees opportunity in every calamity, rather than calamity in ever opportunity. That is the Mount way."
Student speaker Chelsea Garrity, described her journey from being "a small fish in a big pond" to becoming an engaged student leader.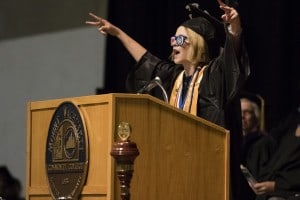 "I don't think that I became a big fish in a small pond because the Mount isn't a small place and it isn't a competition for survival. I grew as a person, I challenged myself, and I tried new things. And that is my challenge to you. Class of 2016, I challenge you to step out of your comfort zone. Try something you never though you would like or do….I promise you that it will all be worth it."
Known for her spontaneous rap songs, she concluded her speech in similar fashion to the delight of the crowd.
"So here's to the community that raised you up, and here's to you for never giving up. And when it comes time to throw your cap up, Remember – for the graduates, by the graduates, we the graduates, Word. This is our future, and we will change the world."
A number of awards were also presented during the ceremony.
The 2016 Service Above Self Award was president to Raymond M. Martino, President and CEO of Simonds International, who spoke of the power of collective volunteerism. The award recognizes those who have made significant contributions to MWCC and the 29 cities and towns that make up MWCC's service area.
Tom Berger, student trustee for the past academic year, was presented with the Trustees Award for his service, and three graduates were awarded the President's Key for their academic excellence, Mellissa Richards, Jonathan Inman and Kelly Veautour.
Retiring professors Janice Gearan and Kathleen Panagiotis were awarded emeriti status.
Gardner Mayor Mark Hawke, who received the 2016 Alumnus of the Year Award, lamented that unlike the student speaker, he had no rap song to share, but drew laughter when he spontaneously sang out an operatic "President Asquiiiiinooo." Mayor Hawke shared his personal story of his academic "ordeals and debacles" as he made his way from a "straight-C" student to college graduate thanks to the direction he received at MWCC. He went on to earn a bachelor's degree and MBA.
"To my soon-to-be fellow alums, when you come to the two roads diverging in the woods, whether you take the one less traveled or not, always remember and be proud that your road began here at MWCC."