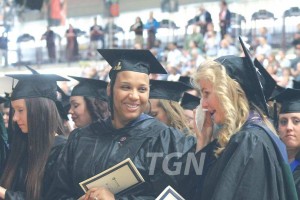 GARDNER  Mount Wachusett Community College graduates Phillip Stan and Lisa Burns have three important things in common.
They both went to Mount Wachusett to find second careers after injuries at their first jobs. They both never thought they would be college graduates. And they both have full rides to top-ranked, four-year schools next semester.
"I never finished high school, so this is the first time wearing a cap and gown," said Ms. Burns, who will be pursuing history and English at Mt. Holyoke College. "Walking across that stage as a first-generation student is going to be life-changing."
Ms. Burns was encouraged to take classes at the Mount by the former director of the HOPE for Women program, Mary Roth, while looking for a way to reinvent herself.
Mr. Stan, who will be attending Hampshire College and focusing on psychology (the school does not have majors) was looking for a place to retrain and re-enter the work force.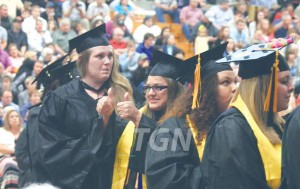 What neither of them expected was the sense of community they found at Mount Wachusett.
"The Mount has an intoxicating quality to it," said Mr. Stan, who served as the college's student trustee. "I wouldn't be where I am today without the unwavering support of family, staff and the faculty at the Mount."
"MWCC is truly like a family," said Ms. Burns. "Starting here at this campus I got to know myself, what I can accomplish, and that support is only a few steps away. MWCC gave me the courage to go even further with my dreams."
Through classes such as American romanticism, honors history, Shakespeare and Star Wars and philosophy, the two honors students found passions they didn't know they had and a desire to keep learning.
"I had a sort of awakening that expounded upon the way I write and think in all of these classes," said Mr. Stan.
As a result, both students feel prepared for the next step in their education. Mr. Stan is excited for the "progressive education model" at Hampshire that allows students to build their own major.
"Eventually, I plan to earn a Ph.D. in clinical psychology," said Mr. Stan. "I would like to work specifically with autistic children. My own son is autistic and I find that he amazes me daily. I feel that it is not they who do not understand the world, it is the world that does not understand them."
Ms. Burns will be a part of the Frances Perkins program at Mr. Holyoke, which is a select group of women that can support and encourage each other.
"They also have a Nexus program, public history, archives and museums," she said. "Museum archival work is what I want to do in the future, so I am most excited about this."
(Katie Landeck, The Gardner News, May 21,2015)