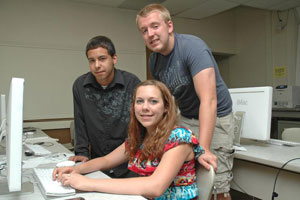 Area teenagers looking to save time and money on their college education, or just get a taste of college life, have been accruing credit hours this summer through MWCC's Upward Bound Math and Science program and other dual enrollment opportunities offered through the college's Division of Access and Transition.
This summer, MWCC offered 11 college courses for North Central Massachusetts teenagers. Veronica Guay, Director of Dual Enrollment, worked with Angele Goss, Director of the UBMS program, college administrators and others to expand opportunities for teenagers to earn college credits and remain engaged in academic studies throughout the summer. The dual enrollment courses were offered to teens for $30 through a grant from a U.S. Department of Education. During the summer, more than 150 students from throughout the region enrolled in one or more courses, including English Composition, Algebra, Human Biology, Introduction to Sociology, Introduction to Psychology, Psychology of Self, First Year Seminar and transitional courses in math, English and reading.
The courses help provide teens with a "tool kit" of college skills, Guay said. In addition to tackling the course content, the students are being prepped for college life by learning how to read a syllabus, use the Blackboard online learning system to supplement their coursework, and master other skills to succeed. In addition, the courses help them retain knowledge during the summer months before returning to school in September, she said.
High school students in grades 9 through 12 from Gardner High School, Athol-Royalston High School, Murdock Middle/High School in Winchendon and Montachusett Regional Vocational Technical School in Fitchburg had the opportunity to further experience college life by moving into dormitories at Fitchburg State University as part of a six-week component of the year-round Upward Bound Math and Science program. The grant-funded UBMS program serves students who have an aptitude for math and science, are from first generation college families and/or are income eligible.
The students meet throughout the academic year on the Gardner campus for academic advising, counseling and mentoring, MCAS and SAT preparation, math and science research projects, financial aid and scholarship workshops, educational and cultural field trips. During the summer component, the students study math, biology, chemistry, robotics, English, computer science and other topics in the morning, participate in math and science research projects in the afternoon, then take part in recreational activities and study sessions.