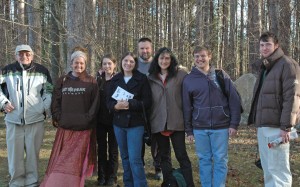 The Green Society student sustainability club hosted a presentation Nov. 26 on two invasive beetles in Massachusetts to raise awareness in the community.
Samantha Brady Stelmack, forest pest outreach and survey coordinator for the Massachusetts Department of Agricultural Resources, provided an overview of the damage in the state and in the country being caused by the invasive Asian longhorned beetle and the emerald ash borer. The free lecture drew students, faculty and members of the greater community.
Both species have a devastating effect on the environment and the economy, Stelmack said. During the presentation, she explained ways to identify infestation and precautions that can be made. Since the Asian longhorned beetle was detected in Massachusetts in 2008, local, state and federal entities have been working together to fight the infestation that has had devastating effects in Worcester and has placed the entire Northeastern U.S. on high alert. Worcester's Asian longhorned beetle infestation has required the removal of more than 30,000 trees and has spread into neighboring towns.
The emerald ash borer has destroyed millions of ash trees since it appeared in the U.S. a decade ago. It was detected in the Berkshires in August 2012.