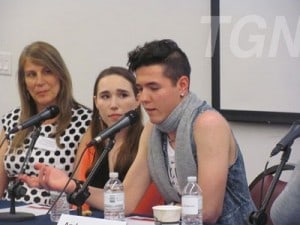 GARDNER – Equal respect and consideration for one another was the takeaway message at Mount Wachusett Community College on Monday, as the school held a panel discussion featuring members of the LGBTQ community.
The acronym stands for Lesbian, Gay, Bisexual, Trans¬gender and Queer.
A group of six students and educators, a majority from the Mount, talked to a public audience about their experiences being someone who is not heterosexual, or does not identify with the gender they were born as.
Each panel member touched upon encountering people during their lives who were unaccepting or at least not familiarized with what it means to be LGBTQ – being outside the traditional social norms surrounding sexuality and gender identification.
"A lot of times I get (from other people), 'I just don't believe in it.'
I'm not Santa Claus, so whether you believe it or not, it exists. …
If you don't want me to get married in your church, I respect that.
But I deserve the same civil rights and liberties," said Catherine Zabierek, a Mount student studying biological sciences who is lesbian.
The other panel members included: Adam Edgerton, an English teacher who has worked in China and is gay; Eden Shaveet, a Mount student who is bisexual; Charlie MacCall, a University of New Hampshire grad working in online marketing who is a transgender gay man; Anders Bigelbach, a Mount student who is bisexual; and Jennifer Stephens, a Mount instructor in the Advanced Manufacturing program who is a transgender woman.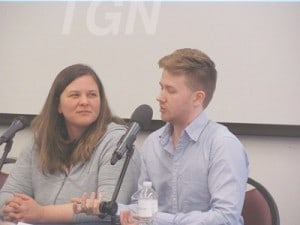 While the politics of LGBTQ rights was touched upon – including the recent North Carolina "bathroom law" requiring people to use the restroom that corresponds to the gender on their birth certificate – the conversation was mostly personal, being affecting in its sincerity. Shaveet is studying psychology in the Mount's Gateway to College program, which offers dual-enrollment to high-school students, allowing her to achieve college credit prior to graduating high school.
Growing up as bisexual, she spoke about the insulated feeling that comes with not being accepted by peers.
She told the audience about how she switched schools in the seventh grade after being bullied in the hopes she would be treated better at a new school.
"But by the third week I was put into a locker. …The bullying and aggression really took a toll on me," she said, adding that the environment at the Mount, though, has been accepting.
Bigelbach, also bisexual, is pursuing creative writing in the Mount's Gateway to College program.
He fielded a question about the notion that being different is a conscious choice as opposed to simply being how one naturally feels.
He said he asks people who believe sexuality is a choice if they chose to be straight.
"You don't make that choice. It's not like (choosing) I'm going to have juice instead of water today," he said.
The panel also took the time to go over some of the positive moments in their lives that have come through their experiences being in the LGBTQ community, particularly the power they've found in coming out as who they are and the relationships they've formed.
Stephens said she used to be known as a "guy's guy" before coming out publicly as a transgender woman at the school she used to teach at, leading a transgender student to subsequently come up to her and say "for the first time in my life I have a role model."
Being open about her gender identity was a huge step forward for Stephens personally.
She didn't do so until she was in her fifties after watching an episode of Oprah Winfrey's show called "Born in the Wrong Body."
"I actually didn't like myself. I thought I was an awful person who wanted to dress in women's clothes," she said.
The role of parents in the process of coming out and living as one's true self was also touched upon by the panel, with some good and some bad family reactions being mentioned.
Edgerton shared a fairly new anecdote regarding his mother and North Carolina's "bathroom law," which has come under heavy criticism from the LGBTQ community and its supporters.
He is originally from North Carolina and his mother still lives in the state.
He said she hasn't normally been a political protester over the course of her life, but she joined a protest demonstration of North Carolina residents recently in the state's capital of Raleigh.
He said when they spoke over the phone about it, she explained herself by saying, "Well, you're my son and they (the state) hurt my son, and that's why I'm out here."
He compared Massachusetts – which he described as being more open-minded – and his home state that he said is "not a very good place to be a gay man."
He also spoke about how he notices attitudes toward LGBTQ people have improved overall during his lifetime, but there is still progress that can be made.
That theme of continuing progress through open dialogue and further understanding was the overarching theme of the panel, the idea that a common humanity should trump divisiveness over personal differences.
Andrew Mansfield, The Gardner News, April 26, 2016