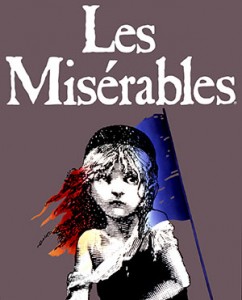 Theatre at the Mount announces its 2014 season of plays, which includes the Tony Award-winning musicals Les Miserables, Chicago and Annie.
The 1920's are roaring with hot jazz and cold-blooded killers in the drop-dead musical Chicago. Nominated for eightTony Awards, Chicago is a sexy musical extravaganza that tells the story of Roxie Hart and Velma Kelly who murder their faithless lovers and go on to fame, fortune and "all that jazz!" Performances of Chicago are February 28; March 1, 7, 8 at 8 p.m. and March 9 at 2 p.m.
Spring is golf-season, and The Fox on the Fairway takes audiences on a hilarious romp that pulls the rug out from underneath the stuffy denizens of a private country club. Based on the great English farces of the 1930s and 1940s, The Fox on the Fairway is filled with mistaken identities, slamming doors, and over-the-top romantic shenanigans. It is a furiously paced comedy that recalls the Marx Brothers' classics and is a charmingly madcap adventure about love, life and man's eternal love affair with…golf. Performances are June 13, 14, 20, 21 at 8 p.m. and June 22 at 2 p.m.
How to Succeed in Business Without Really Trying takes the stage in August. With the aid of a trusty self-help book, wily window washer J. Pierrepont Finch enjoys a riotous rise up the corporate ladder. Will Finch's unorthodox business practices at the World-Wide Wicket Company get him in hot water with the head honcho J. B. Biggley, and jeopardize his romance with Secretary Rosemary Pilkington? Power, sex, ambition, greed – and a great musical score – it's all in a days' work! Performances are August 8, 9, 15, and 16 at 8 p.m. and August 17 at 2 p.m.
The long-awaited international sensation Les Miserables sweeps its audience through an epic tale of passion and destruction in revolutionary France. Peasant Jean Valjean is imprisoned for stealing a loaf of bread. After his release, he breaks parole and starts life anew, though he is relentlessly pursued by Inspector Javert. As Parisian students revolt against an unjust monarchy, all stories intersect at the barricade one fateful day in 1832. The powerful musical score includes "I Dreamed a Dream," "On my Own," and "Bring Him Home." Les Miserables runs October 10, 11, 17, and 18 at 8 p.m. and October 12 and 19 at 2 p.m.
Leapin' Lizards! Everyone's most beloved musical is back! Annie, her beloved dog Sandy, Daddy Warbucks and the menacing Miss Hannigan bring the classic comic strip to life on the Mount stage. Annie guarantees "The Sun Will Come Out Tomorrow…" and promises the entire family "A New Deal for Christmas!" Don't miss the fun on November 28, 29, December 5, 6 at 8 p.m. and November 30 and December 7 at 2 p.m..
Season tickets for all five shows are $65 and are on sale now. To purchase season tickets or single-show tickets or to request a brochure, contact the Theatre at the Mount box office at 978 630-9388. Tickets may also be purchased online at mwcc.edu/tam