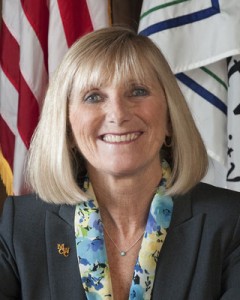 Professor Gail Steele, director of Theatre at the Mount, not only will be recognized with a community service award during the House of Peace and Education's annual Celebrating Women event, she'll also share the stage with one of the country's greatest performers, Rita Moreno.
The Grammy, Tony, Emmy, and Oscar winning performer will headline the annual event to raise awareness of women's issues and funding for House of Peace & Education, Inc., a non-profit serving women and children in North Central Massachusetts. This year's event will take place on Thursday, May 21, at Great Wolf Lodge of New England in Fitchburg.
Under Professor Steele's supervision TAM has received local, regional, and national acclaim. In her 38-year career, over 2,500 individuals have appeared in TAM productions and over 8,000 have participated in summer drama and choir programs. Many have gone on to pursue their own careers in theatre after literally growing up at Theatre at the Mount. In addition to her work at TAM, Professor Steele has shared her expertise and been active in many organizations throughout the community.
HOPE empowers women and children by providing employment and educational skills, and nurturing self esteem, so they can to transition into independence. Because HOPE is a no-fees organization, it must raise considerable funds each year to continue its many services.
This year's event begins at 5:30 p.m. and consists of cocktail hour with cash bar, dinner, a performance by Boston's Divas with a Twist, presentation of awards, and finally Rita Moreno's inspirational story through spoken word and song. Tickets are available in advance only: online at www.hopegardner.org, by calling 978-632-0400, or stopping in at the HOPEful Boutique at 33 Parker Street in Gardner.
In addition to the HOPE Celebrating Women Award, in April, Professor Steele received the Community Leadership Award from the ARC of Opportunity of North Central Massachusetts for her leadership and creativity in launching a sensory-friendly theatre performance for families who support children with intellectual and/or developmental disabilities or on the autism spectrum.