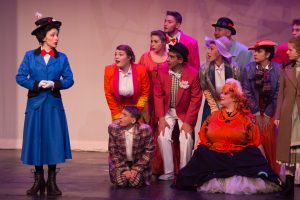 Theatre at the Mount is giving back to season ticket holders with three free performances on January 13, 14 and 15 of Broadway musical numbers with tickets also available for sale to the general public.
A Big Fat Broadway Thank You was conceived of by Theatre at the Mount Director Gail Steele as a way to thank season ticket holders for their loyalty during a season where the productions were held at numerous venues due to renovations to the Mount Wachusett Community College's Raymond M. LaFontaine Fine Arts Center. The season ticket holders were very understanding of seven productions being held at locations throughout the community that included Monty Tech and Gardner High School, said Steele, and the Broadway musical show taking place this weekend was created to thank them.
"It's just jam-packed with Broadway show tunes and we made a point of picking things people know and love," said Steele. "These are classics. It's classic Broadway with our best performers giving their best performances."
The performances will showcase numbers from Broadway classics such as Chorus Line, Chicago, West Side Story and Les Miserables and feature appearances from regular TAM performers such as Ethan Caouette, Elaine Crane and Mark Peterson. Even though the show is a thanks to season ticket holders, tickets are available for $20.
The performances will be held on January 13 and 14 at 8 p.m. and January 15 at 2 p.m. Additional information about Theatre at the Mount and A Big Fat Broadway Thank You is available online at mwcc.edu/tam.