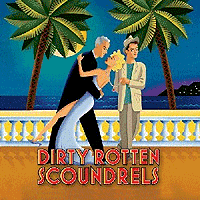 Mount Wachusett Community College's Theatre at the Mount kicks off its 2015 season with the scamming, scheming, double-crossing hit Broadway musical, Dirty Rotten Scoundrels beginning February 27.
Based on the popular 1988 MGM film starring Michael Caine and Steve Martin, Dirty Rotten Scoundrels centers on two con men living on the French Riviera – the suave and sophisticated Lawrence Jameson, who makes his lavish living by talking rich ladies out of their money; and a small-time crook named Freddy Benson, who, more humbly, swindles women by waking their compassion with fabricated stories about his grandmother's failing health.
After meeting on a train, they unsuccessfully attempt to work together only to find that this small French town isn't big enough for the two of them. So they make a bet: the first one to swindle $50,000 from a young heiress triumphs and the other must leave town. What follows are a series of schemes, masquerades and double-crosses in which nothing may ever be exactly what it seems.
Dirty Rotten Scoundrels opened on Broadway in 2005 to rave reviews. Clive Barnes raved in The New York Post, "A knockout punch to Broadway's funny bone! One of the liveliest, funniest, best-performed musicals in years. Super-smart and superior in every way."  In the The Wall Street Journal, Terry Teachout proclaimed, "I know funny when I see it, and this show is a perfect hoot!  A big hit."
Dirty Rotten Scoundrels was awarded 11 Tony Award nominations, including Best Musical. The show features a book by Jeffrey Lane and music and lyrics by David Yazbek (The Full Monty).
Theatre at the Mount's cast will be led by David Allen Prescott as Lawrence Jameson and Doug Dame as Freddy Benson, both residents of Fitchburg. The show also features Gardner resident Kaara McHugh as Christine Colgate, Trish Aponte of Clinton as Muriel Eubanks, Michael Celularo as Andre Thibault and Rachael Rossi as Jolene Oakes.
The ensemble includes Elizabeth Vetesse, Hailee Martin, Hayley Blackmer, Jessica Tomer, Jillian Whitney, Lisa Tierney, Michelle Heffner, Shani Farrell, Susie Shepardson, Bryan Landgren, Joel LeBlanc, Keith Wolosz, Stephen Allain, Nick Marques and Nick Landry.
Performances are February 27, 28, March 6, 7 at 8 p.m. and March 8 at 2 p.m. Tickets are available at the Theatre at the Mount Box office, by phone at 978-630-9388 or online at www.mwcc.edu/tam.
– Gail Steele