One of America's most beloved holiday musical takes the stage this November as Theatre at the Mount presents the sparkling new stage adaptation of Irving Berlin's White Christmas. This classic musical opens on Thanksgiving weekend for six performances, November 29, 30, and December 6 and 7 at 8 p.m., and December 1 and 8 at 2 p.m.
Based on the popular 1954 movie starring Bing Crosb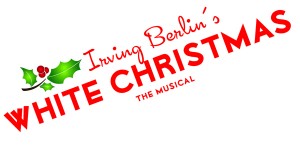 y, Danny Kaye and Rosemary Clooney, the show is about a successful song and dance team – Bob Wallace and Phil Davis – who team up with singing sisters Betty and Judy Haynes to put on a production to save the inn of their former commanding general
The TAM production stars Taylor Lawton, Chris Casello, Lisa Tierney and Amanda Lawton. Approximately 40 singers and dancers complete the cast, accompanied by a 12 piece professional orchestra.
In addition to the delightful numbers that made the musical popular, Sisters and What Do You Do With a General, the show is energized by sparkling renditions of The Best Things Happen When You're Dancing, Blue Skies and I Love a Piano as well as heart-warming standards likeCount Your Blessing, Love, You Didn't Do Right By Me, and, of course, White Christmas.
Admission is $20 for evenings, $15 for matinees, and $10 for Mount students and children under age 17.  Tickets are available by contacting the box office at 978-630-9388 or online at www.mwcc.edu/tam.