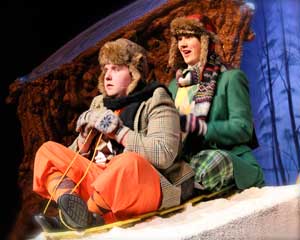 Theatre at the Mount's production of A Year with Frog and Toad has been selected for recognition as honorable mention for a New England Theatre Conference Moss Hart Memorial in the Children and Youth Division. The presentation of the certificate will occur at the annual awards banquet during the NETC convention on October 27 in Natick.
The annual Moss Hart Memorial Award has a two-fold purpose: to honor the memory of Moss Hart, dramatist and director, for his wit and sensitivity, for his unconquerable enthusiasm for life and for his work in the theatre; and to recognize and encourage outstanding theatrical productions throughout New England of play scripts that present affirmative views of human courage and dignity, that have strong literary and artistic merit, and which in their productions, exemplify fresh, imaginative, creative treatment with the intent of the playwright.
A Year with Frog and Toad was performed in April. The play was directed by Emily Smith; with music directed by Katrina Caouette, and choreography by Chris Casello, Johanna Recko and Thom Hardy. The show starred local high schools students Russell Holbert (Monty Tech) as Frog, Wesley Young (Leominster High) as Toad, and Merrick Henry (Fitchburg High) as Snail. Also featured in the cast were Erin Glenny, Vikki Chase, Olivia Ryan, Sadie Kennedy, Haley Martin, Kaitlynn Chase, Annie Cormier, Chanelle Goguen, Rory Young, Emily Waystack, Emma Lottig and a large ensemble of singers and dancers, all from local schools.