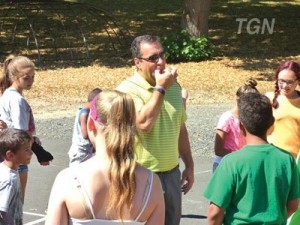 GARDNER – Fun learning and games have kept Gardner's youth so busy this summer they can almost forget the heat of 90 degree days.
Mount Wachusett Com­munity College is in the midst of its 12th annual Summer Up program, run in collaboration with the city and held at Jackson Playground, which is free for families and lasts five weeks.
An average of about 70 kids a day stop by the playground and on Wednesday morning they were given a treat almost as good as a popsicle: A visit from Mayor Mark Hawke.
"It's a safe environment. It's structured, supportive, it's fantastic," Hawke said, adding the program fits well with the playground improvements the city has made in the last few years. He said the city donated $12,500 to help run the program.
Summer Up is held Mondays through Thursdays from 9 a.m. to 2 p.m. for children ages 5 to 12. It also provides an employment opportunity for several teenagers who are counselors helping out the Mount's adult staff.
Every week the children visit Greenwood Memorial Pool and are introduced to fun, safe STEM-related activities, standing for science, technology, engineering and mathematics.
"I really enjoy when you put Mentos inside of the soda," said Jeremias Rodriguez, referring to a science experiment with the mint candy and Coke that produces a volcanic-like chemical reaction.  Rodriguez is 7 years old and in his second year going to Summer Up.  He said he also likes playing water dodge ball at the pool.
Anthony Frediani, 9, is in his third year at the program.  He enjoys spending time with his friends at the jungle gym and games like capture the flag. "I like playing basketball the best; my favorite game is knockout," he said, which involves players competing against each other to make basketball shots.
STEM instructor JoAnn Pel­lechia is in her third year with the program, saying she loves the opportunity.  Making miniature greenhouses for plants, bird feeders, glow-in-the-dark slime, and buildings made from spaghetti and marshmallows are some of the activities she's been teaching.  She teaches the teenage workers how to instruct the children in groups, working together.
"It's keeps getting better each year," she said.  "Teamwork is a very important component of the working force of the future."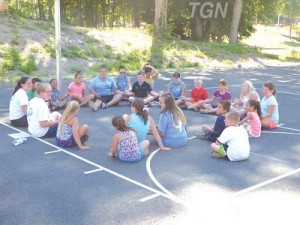 Samantha Phelps-Pineo, 15, is one of the youth workers.  They undergo a week of training beforehand, being taught leadership skills and bullying prevention.  They are also taught job skills such as resume writing for their future careers. "I've been working here since seventh grade and I'm going to 10th," said Phelps-Pineo. "I think this job gets you ready to do interviews for a bigger, better job."
Lea Ann Scales, who is the Mount's vice president for external affairs, communications, and K-12 partnerships, said the program is the "coolest thing going."
"The mayor has been so innovative and creative and supportive."
The $12,500 contribution from the city was a budget item approved by the City Council. "This is always in jeopardy because it's funding," said Hawke.  "I'll give them credit. Without a blink of an eye they said absolutely, this needs to be done."
The Mount also runs separate Summer Up programs at sites in Fitchburg and Leominster.  At all sites meals are provided to the children.
The Division of Access and Transition at the Mount coordinates the program, which costs about $40,000 per site.  For Gardner, after the city's contribution and grant funding, the Mount is left to pay about $15,000.
Scales said the program fits a need for childcare over the summer and youth employment, and is also part of the civic engagement focus put in place by Mount President Dan Asquino. "It's the college's job to make sure our communities are vibrant," she said.
Andrew Mansfield, The Gardner News, July 28, 2016