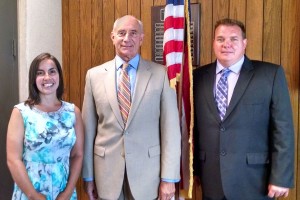 Thomas Berger, a business administration major at Mount Wachusett Community College and a veteran of the U.S. Army, has been appointed student trustee on the college's Board of Trustees for the upcoming academic year.
The Winchendon resident was elected by his peers to the one-year position during the spring semester and was sworn in on Aug. 6 during a brief ceremony at the college. As student trustee, he serves as a full voting member on the 11-member board.
"We welcome Tom to the Board of Trustees and look forward to his service, insight and dedication," said board Chair Tina M. Sbrega.
"Tom is highly engaged on campus and in the community, and is a strong advocate for his fellow students," said President Daniel M. Asquino.
Berger said he is looking forward to serving on the board and being a voice for all MWCC students.
"I thank my family, friends and the faculty and staff at Mount Wachusett for being there for me over the past year and a half of my college experience," Berger said. "Their support has made a tremendous difference. I enrolled at the Mount to earn a college degree and have gained so much more."
An active campus leader, Berger has served this past year on the Student Government Association and is a graduate of MWCC's Leadership for Life program. He currently serves as vice president of the Phi Theta Kappa honor society, as a peer mentor with the Students Serving Our Students (SOS) program, and as a member of the Veterans Group, a student club affiliated with the Student Veterans of America. As a first-generation college student, he is also a member of MWCC's Visions Program, a TRIO student support services program.
This coming year, Berger will serve as vice president of the state-wide Student Advisory Council, an organization that represents all 29 public colleges and universities in Massachusetts.
He has participated in many charitable endeavors including the United Way Day of Caring, the Student Emergency Fund, Habitat for Humanity of North Central Massachusetts, and the SGA Thanksgiving food drive. Earlier this year, he launched a Laptops for Veterans fundraising initiative to purchase new computers for the college's Veterans Success Center for use by student veterans.
After graduating in May 2016, he plans to pursue a bachelor's degree in business management. Raised in a family with a history of military service, Berger served in the U.S. Army from 1991 to 1998 and was stationed for much of that time in South Korea and Germany.