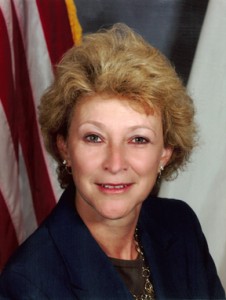 Tina Sbrega, president and chief executive officer of GFA Federal Credit Union in Gardner, has been appointed chair of the Mount Wachusett Community College Board of Trustees. She has served on the board since 2005, most recently as vice chair.
"Our community colleges are at the center of our efforts to close the skills gap and help people get back to work in Massachusetts," said Governor Deval Patrick, who announced Ms. Sbrega's appointment on Oct. 18. "I want to thank Ms. Sbrega for her willingness to serve in this capacity and am confident that she will be a critical partner in our collective efforts to better serve our students and employers, building a stronger Commonwealth for generations to come."
"As a trustee and most recently as vice chair, Tina Sbrega has been a diligent, community-minded member of the board," MWCC President Daniel M. Asquino said. "We are pleased that Governor Patrick has appointed her to continue the leadership of our outgoing board chair, Jim Garrison, who has admirably served our college community and will continue to serve on the board. Ms. Sbrega is a highly regarded leader and we welcome the continuity her appointment will provide," he said.
"I'm honored to have been chosen to serve in this role as chair of the Mount Wachusett Community College Board of Trustees," Ms. Sbrega said. "The leadership, the faculty, and the entire college community do a phenomenal job in serving the needs of North Central Massachusetts students and local businesses, and I'm proud to be affiliated with such an outstanding organization."
Ms. Sbrega began her work with GFA in 1980 and has served in numerous capacities at the company over the past 30 years. She serves as chair of the Board of Trustees for Heywood Hospital and as a director for the House of Peace & Education in Gardner.
She previously served 11 years as a director of the Greater Gardner Chamber of Commerce. She earned an associate degree from Quinsigamond Community College and a bachelor's degree in Business Administration from Roger Williams University.