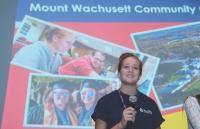 FITCHBURG — Mount Wachusett Community College student Kaila Lundgren had some advice for high-school seniors at Montachusett Regional Vocational Technical School.
"I don't want you to overlook public institutions just because the name might not be as big as that $60,000 school," Lundgren told the senior class at a Thursday morning assembly. "You are getting the same education with half the debt."
Lundgren, along with five other public college and university students and alumni, was at Monty Tech on Thursday to kick off the state "Go Higher" campaign. The campaign, an effort by the state Board of Higher Education, encourages Massachusetts high-school students to attend public institutions of higher education after graduating.
For the first of numerous "Go Higher" assemblies at high schools around the state, Monty Tech hosted four current public college students, two recent graduates of public schools, Secretary of Education Jim Peyser and Commissioner of Higher Education Carlos Santiago.
Peyser encouraged seniors not only to go to college, but to work hard and make the most of the experience.
"You get out what you put in," he said.
Santiago talked about "how transformative higher education is," saying he was never an excellent student in high school.
"But when I went to college it only took one semester to ignite that thirst for learning," he said.
Both officials told students how lucky they are to live in a state with some of the best public colleges and universities in the country.
"We encourage you to take advantage of this," Santiago said.
The student speakers sent this same message.
Lundgren went to community college to study nursing, she said, because her mother was a community-college graduate
"My professors are always there for me, and I get weekly emails from my adviser reaching out," she said. "I don't think that's typical at bigger schools."
Quinsigamond Community College sophomore Erika Lacrosse said she had always wanted to be a chef growing up, but after attending a vocational high school, realized she wanted to pursue a different career path. When applying to college, she was worried about spending thousands of dollars on a school where she might end up changing her mind again about what she wanted to do.
"I decided to go to Quinsigamond, and thought, if I switch majors, it's going to be affordable," Lacrosse said.
Micah Klayman, a student who transferred from Quinsigamond to Worcester State University, said he loves that his school offers degrees in so many "fields that are growing," like nursing and engineering sciences.
Jerene Simmons, a Fitchburg State University student, said she is constantly impressed by the "well-rounded" experience offered at FSU.
Despite going to a small state school, Jerene said she has met fellow students from all over the United States, joined campus activities and studied abroad.
University of Massachusetts Lowell alumni Mike Mizzoni and Massachusetts Maritime Academy alumni Josh Lamm also spoke about their positive experiences with public higher education. Mizzoni, who works as a state attorney, credited his UMass education with much of his success. Lamm, who operates a ship bringing supplies to an oil rig in the Gulf of Mexico, said Massachusetts has some of "the best public schools around."
During a question-and-answer session, several of the students addressed concerns frequently brought up by high school students, such as whether community colleges and state universities offer the same "college feel" as private, four-year schools do.
"Your experience is what you make it," said Klayman.
"You can get very involved on the campus," Lacrosse said of Quinsigamond, adding that she is a member of the Phi Theta Kappa Honor Society at her school.
Mizzoni, who said he participated in student government and Model United Nations at Umass Lowell, agreed.
"There are all sorts of opportunities," he said. "You just have to take advantage of them."
Asked whether students who attend public schools have a harder time applying for jobs in certain industries, Lamm said they should just focus on doing well at any school.
"Don't concern yourself with whether you went to a public or a private college," he said. "Concern yourself with how you did at that public or private college."
Anna Burgess, Sentinel and Enterprise, Sept. 25, 2015