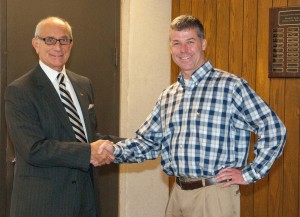 Tom Clay, Chief Executive Officer of Marlborough-based Xtalic Corporation and a resident of Westford, has been appointed to the Board of Trustees at Mount Wachusett Community College.
"Mr. Clay brings to the board extensive experience in advanced manufacturing and a passion for higher education. His expertise and dedication will be an asset to the college and to the greater community we serve," said MWCC President Daniel M. Asquino.
Mr. Clay has led several high technology companies, which trace their roots back to inventions at MIT and have added hundreds of jobs in Massachusetts. Xtalic develops high performance metal alloys for a wide range of applications and his previous company, Z Corporation, was a pioneer in 3D printing. Tom was named to Boston Business Journal's "40 under 40" and has been active in a wide range of civic causes.
"One of Massachusetts's great strengths is innovation in technology, and we require a highly trained workforce to thrive. Community colleges have a critical role in training and retraining our workforce to succeed in this exciting and rapidly training environment. I'm very pleased to be selected to help Mount Wachusett Community College build on their great track record of preparing tomorrow's workforce. As a veteran, I am also excited to support MWCC's very successful programs supporting our men and women in uniform."
A former Airborne Ranger, Mr. Clay led reconnaissance teams while stationed at Fort Bragg, North Carolina, and said he was proud of MWCC's designation as one of 15 colleges in the country to establish a Center of Excellence for Veteran Student Success with support from the U.S. Department of Education, and to be part of a college community recognized for its commitment to veterans, members of the military, and military families who are transitioning to college.
Mr. Clay earned his bachelor's degree in mathematics from Princeton University and an MBA with high distinction as a Baker Scholar from Harvard University Graduate School of Business Administration.