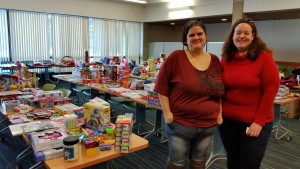 The second annual Holiday Toy Drive organized by the Parent Support Group at Mount Wachusett Community College distributed presents to 52 families this week.
The toy drive was hosted by MWCC's Parent Support Group that collected donations since Dec. 1 from faculty, staff, and students. According to PSG President and MWCC Student Michel Cocuzza, the donations came flying in and quickly filled two storage rooms. The gently used or new toys, books, games, and holiday decorations were then distributed on Dec. 19 and 20 to families within the MWCC community.
"I am so pleased to see students helping students, especially in the middle of finals and the holidays," said MWCC President Dr. Daniel M. Asquino. "This is just one example of the generous spirit of support that students, faculty, and staff at Mount Wachusett Community College share every day."
These donations can be a huge help during the holidays, according to Cocuzza, especially to student parents.
"Being a student parent is a difficult task. Most of us go to school full time and struggle financially," Cocuzza said. "With the help of PSG and our advisor, we were able to assist 52 families."
PSG Club Advisor Ann Reynolds said that it was the hard work of the PSG team that made the event possible.
"It would be remiss of me to not give a shout-out to Michel and all our dedicated PSG members for their hard work on making this event such a success," Reynolds said. "We hope the Toy Drive will be a MWCC tradition."