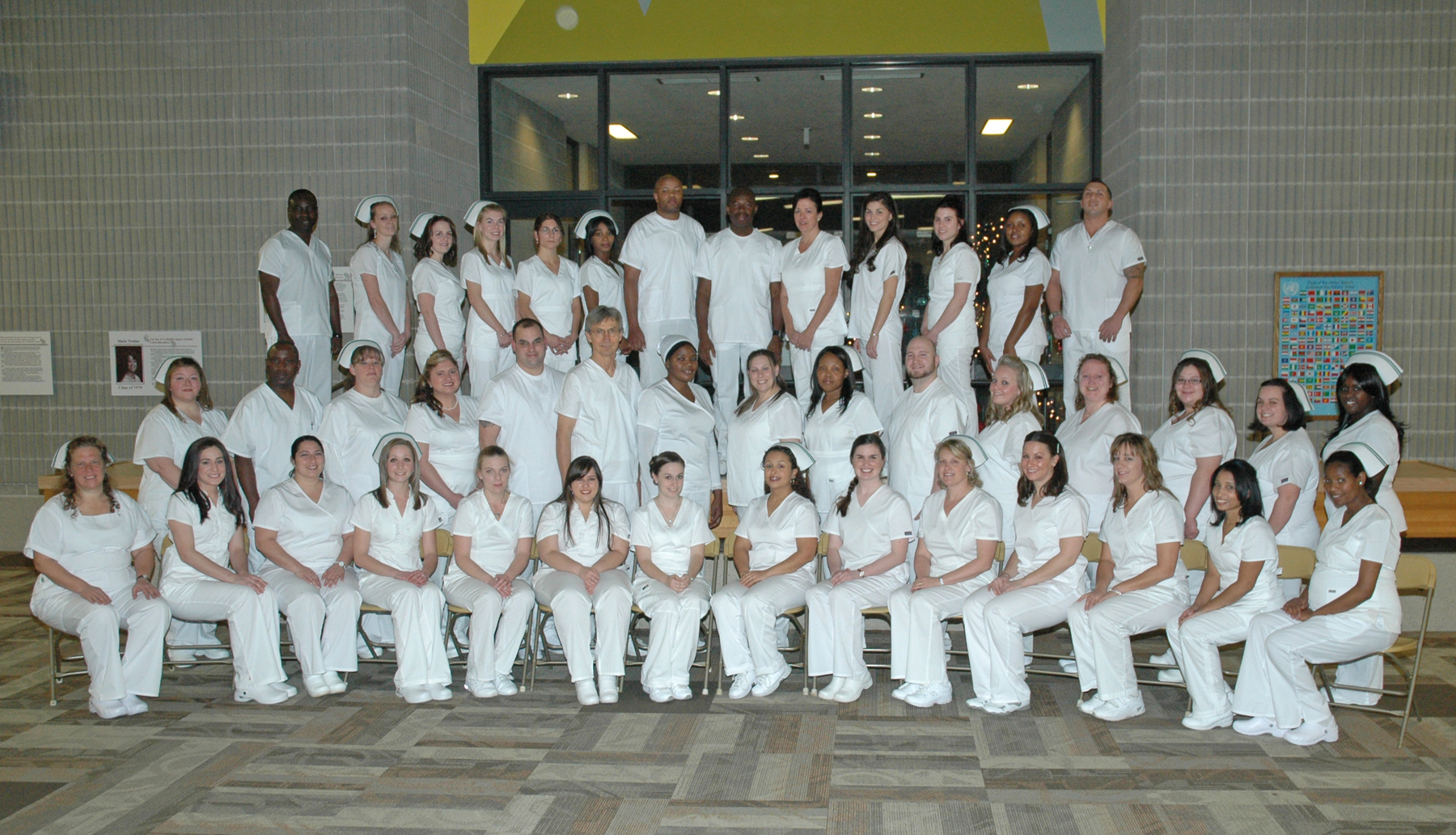 Friends, relatives and members of the college community gathered December 17 to welcome 46 graduates of MWCC's Practical Nursing program into the nursing profession during a traditional pinning ceremony.
Each graduate, dressed in a traditional nurse uniform, was welcomed into the profession by having a nursing pin fastened to her or his lapel by a fellow nurse – a family member, friend or faculty member. MWCC's eight-star pin is imprinted with the words "Service to Humanity and the World" with the nursing symbol in the middle. The pin symbolizes the medal of excellence Florence Nightingale presented to the women who nursed the wounded soldiers of the Crimean War.
The ceremony also included the traditional recitation of the Florence Nightingale Pledge and lighting of a candle as a symbol of the care and devotion nurses administer to the ill and injured.
Julie Ireland, director of nursing and the clinical coordinator at the Heywood Hospital Transitional Care Unit, was the guest speaker. The mother of four is also a volunteer with Forward in Health, a Gardner-based nonprofit organization that provides medical service to residents at its clinic in Haiti. She encouraged the graduates to reflect on their experiences as students, continue to provide compassionate care to their patients, become active listeners in their patient care, and continue to seek professional and career development.
Robert LaBonte, vice president of finance and administration, provided a welcome message and congratulations from the college. The hard-working nursing students, he said, can often be found throughout campus quizzing and tutoring each other. "Most importantly, they care deeply for others and are devoting their careers to helping others."
Associate Professor Kathleen Panagiotes spoke on the significance of the pinning ceremony and other traditions. Class representative and pinning committee member Kara Costa and David Ishola, also a member of the pinning committee, delivered student addresses.
"As a member of the class of 2012, we have a challenge to stay abreast of technology, avoid complacency and be in the forefront of breakthrough innovations in healthcare," Ishola said. "We must never forget to ask ourselves what it is we can do or change to be a better nurse than we were the day before."
"Being a nurse is not about just passing medication and charting," Costa said. "It's about being able to care for patients when they are at their worst moments and making a difference in their lives. No one can make you a nurse – you just are. We are all here for the same reason today. We are here to celebrate a spirit of compassion toward man that only a nurse knows."
Katrina Seguin led the traditional candle lighting, which dates back to Florence Nightingale, and Emily Osgood led the recitation of the Florence Nightingale Pledge.
As part of the rigorous academic program, the students train with professionals at more than 30 clinical sites in the region that partner with the college.