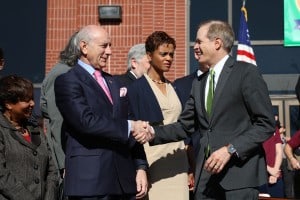 Beginning a college career at a community college and then transferring to a public or private four year college or university continues to be a popular strategy for students interested in earning a bachelor's degree at a lower cost.
From teens to adult learners and career changers, more students are taking this route for its many advantages, including cost savings, small class sizes, online courses, transfer agreements with public and private colleges and universities and the opportunity to explore academic and career options.
Last week, Governor Charlie Baker, Secretary of Education Jim Peyser, and Commissioner of Higher Education Carlos Santiago joined public college and university officials to announce the Commonwealth Commitment, an innovative college affordability and completion plan to help more students achieve the dream of a college degree.
Beginning this fall, the Commonwealth Commitment commits every Massachusetts public campus to providing a 10% rebate at the end of each successfully completed semester to qualifying undergraduate students, in addition to the standard MassTransfer tuition waiver received upon entering a four-year institution from a community college. Students who meet the program requirements will, depending on the transfer pathway they choose, be able to realize an average savings of $5,090 off the cost of a baccalaureate degree.
This plan is the first agreement of its kind in the nation and was inspired by the $30K Commitment adopted last year by the four Worcester County public higher education institutions: MWCC, Quinsigamond Community College, Fitchburg State University and Worcester State University.
Under the $30K commitment, qualifying students are guaranteed their associate and bachelor's degrees in high demand programs for $30,000 or less in four years. MWCC students have the added benefit of choosing from either of these options, as well as many others.
"The biggest thing we can do is make college more affordable," said MWCC President Daniel M. Asquino. "Collaborative agreements such as the Commonwealth Commitment and the $30K Commitment create opportunities while controlling costs and addressing crucial areas such as college completion, economic development, innovation and college readiness," he said.
After earning an associate degree in Liberal Arts: Biological Sciences in 2015 from MWCC, Emily Lapinskas transferred to UMass-Amherst, where she is majoring in biochemistry and molecular biology, on the pre-med track.
"Medical schools do not give out scholarships, so I was not going to let an undergraduate degree put me into debt before I even started," she said.
"Beginning at MWCC saved me a huge amount of money. I completed two years of general education classes and some higher-level classes and all of my credits transferred. The Mount provided a good foundation for me to build upon."
This spring and summer, MWCC is hosting "Enrollment Express" events for students interested in enrolling for new summer and fall courses that begin on May 31, July 11 and Sept. 6.
The Enrollment Express sessions will take place on Tuesdays on May 10, May 24, June 28, July 26, Aug 9 and Aug. 23 from 5 to 7 p.m., and on Saturday, Aug. 20 from 8:30 a.m. to noon.
Interested students are asked to bring a photo ID, high school diploma or equivalency certificate and prior college transcripts, if applicable.
Financial aid advisors also will be on hand to discuss applying for financial aid. Applicants are advised to bring their social security number, 2015 federal tax returns, documentation of un­taxed income, and a PIN or FSA ID number if previously applied for FAFSA.
Registration is recommended by calling 978-630-9110, emailing admissions@mwcc.edu.
For more information about MWCC's transfer pathways, visit mwcc.edu/transfer. For more de­tails about the new Co­mmonwealth Commitment at www.mass.edu/MAComCom