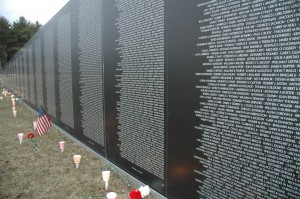 Visitors from throughout New England joined the college community to honor fallen veterans of the Vietnam War during a memorial tribute sponsored by the college's student Veterans Group, the Center of Excellence for Veteran Student Success, and area supporters.The American Veterans Traveling Tribute brought its Traveling Wall to MWCC April 10 through 14. The wall,  an 80-percent scale version of the Vietnam Memorial Wall in Washington, D.C., was escorted to the campus by more than 100 motorcyclists with the Patriot Riders Chapter 3, following a stop at Gardner City Hall for a brief ceremony.
Andrew Constant, president of the Veterans Group, spearheaded the initiative. The memorial was also made possible through the generous support of several community sponsors including the Patriot Riders Chapter 3, the VFW Ovila Case Post 905, Vietnam Veterans of America, Montachusett Veteran Outreach Center, Franco-American Vets in Leominster and many other school clubs and outside organizations.
The exhibit is a veteran-owned project committed to travel the nation to honor, respect, and remember men and women who served, and to pay specific tribute to those who gave all in that service. Across its 360-foot length, the wall contains every single name etched on the original. At its apex, the memorial is an impressive eight feet tall.
Events included an opening ceremony, a candlelight vigil and a closing ceremony.
Opening ceremony speakers included MWCC President Daniel M. Asquino, and two alumni – Donald Progen, a veteran of the U.S. Marine Corps who served in the Vietnam War, and keynote speaker Xuyen Nguyen, a native of South Vietnam who was imprisoned on several occasions for her support of the U.S. military.
"There would be no parades for Vietnam vts, like those which greeted the members of the Greatest Generation, upon their return from the battlefields of World War II, nor would they simply be ignored, like the veterans of "the forgotten war," Korea," Progen said. "Vietnam vets were in many places, openly ridiculed and reviled. There were however, some places – havens if you will – where Vietnam vets were accepted, allowed to come to terms with their experiences and move on. One such place was Mount Wachusett Community College, which I was lucky enough to find upon my return to the World in 1971."
Progen, a veteran of the U.S. Marine Corps and retired assistant district attorney in Worcester, commended MWCC for its long history of supporting veterans during its 50 years of existence.
Nguyen, a Gardner resident, shared her poignant story of how the American presence in South Vietnam meant a tremendous difference to those living there. She worked for the U.S. government on a military base as an interpreter and medical assistant, gaining respect of all the Americans on the base. When the U.S. pulled out and the Communists took over South Vietnam, she paid a heavy price.  She was placed in jail on a number of occasions simply because of her affiliation with the U.S.
Finally, in 1995, the U.S. brought her to this country under an amnesty program. She earned her GED at Mount Wachusett Community College, followed by an associate degree in Human Services and has worked in the field of social work for a local agency for many years.  She and her husband of 32 years raised four children in Gardner, who found success in careers including engineering, education and aircraft mechanics.
In addition to the traveling tribute, members of the student Veterans Group dedicated a monument near the college's flagpole to all veterans. The club, which is a chapter of the national Student Veterans of America organization, received assistance from MWCC's facilities department and grounds crew in installing the memorial and new landscaping.