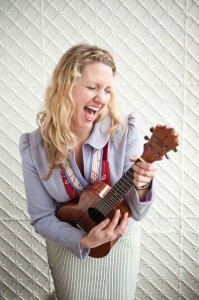 Do you uke? If so, or want to learn, don't miss the Ukulele Union of Boston's fourth annual Ukulele Melee, taking place Saturday, May 3 from 11 a.m. to 5 p.m. at Mount Wachusett Community College, 444 Green Street, Gardner.
The festival will feature a variety of workshops, including two led by singer-songwriter and featured performer Victoria Vox, a ukulele flea market, sing-alongs, and an open mic. Pop-up jam sessions and performances are encouraged at anytime, anywhere, as long as they don't interrupt other activities.
Each May brings National Play Your Ukulele Day, a chance to change the world four strings at a time by playing a ukulele, teaching others to play and enjoying ukulele fellowship. The cheery, budget-friendly instrument continues to grow in popularity among beginners and seasoned musicians of all ages, said Danno Sullivan of Harvard, one of the UUoB's founding members and a ukulele instructor at MWCC.
Workshops include: songwriting and strum along, both led by Vox; songs of the British ukulele and banjolele comedic performer George Formby; hula; the 1920s; right hand strumming techniques; movable chords; singing; and harmonies. Seating is limited in some  workshops. An open mic will run from 2:45 to 3:45, followed by Vox's performance at 3:45.
Vox has performed in Australia, Europe and Canada, and across the U.S. Originally from Green Bay, WI and now a resident of Baltimore, MD, she began writing songs at age 10 and earned a degree in songwriting from the Berklee College of Music in Boston.
Advance registration is recommended. Tickets are $10 and may be purchased through MWCC's Division of Lifelong Learning and Workforce Development at http://mwcc.3dcartstores.com/, by calling 978-630-9525, or at the door.