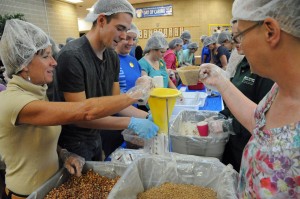 Mount Wachusett Community College has long participated in the United Way Day of Caring, and this year the college community was delighted to serve as a host site. Through MWCC's Center for Civic Learning and Community Engagement, more than 100 students, faculty and staff packaged 16,000 packets of rice and beans for families in need as part of the Kylee's Kare Kits for Kids program.
Kylee McCumber, a sixth grade student at Sky View Middle School in Leominster, started the food assistance program in September 2012 as part of the United Way Youth Venture program, a partnership between the United Way of North Central Massachusetts, MWCC, which administers the youth venture program, and Ashoka.
At a similar event that day in Leominster, volunteers packaged approximately 30,000 of the packets for distribution to local food pantries.