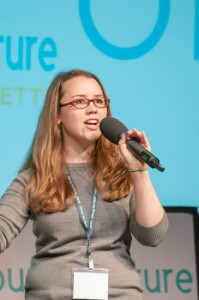 More than 400 students from area schools traveled to MWCC for the United Way Youth Venture of North Central Massachusetts Fall Kick Off on Oct. 18.
A three-way partnership between the United Way of North Central Massachusett, MWCC, and Ashoka's Youth Venture, the program encourages young people to initiate positive, lasting social change in their communities.
Of all of the Youth Venture partnerships nationally, UWYV of North Central Massachusetts has the largest contingent of engaged students and teams. Since 2002, 209 teams have launched ventures, with 135 remaining active. In the past year, 41 Venture Teams launched across all partnering schools/districts and organizations, a 2.5% increase from last year. More than 10,047 students were exposed to UWYV, with 771 students who are actively engaged in the program.  Students also acquired more than 252 adult volunteers to get involved.
The Fall Kick Off is a yearly event that generates motivation and enthusiasm for the program, encouraging and educating students through breakout sessions, acclaimed keynote speakers, and peer-presentations by successful Venturers of the region.
MWCC President Daniel M. Asquino expressed to students the importance of teamwork.  "If you want to go fast, go alone. If you want to go far, go together," he said.
Bob Chauvin, President of SimplexGrinnell, a premier sponsor of the program, also urged students to strive for success. "You may not think of yourselves this way today, but you are our future leaders and you make can a difference."
Marlo Alvarado Custodio, a community organizer and a filmmaker from San Jose, CA., was the keynote speaker.  He encouraged students to follow through with their commitment to make a difference.