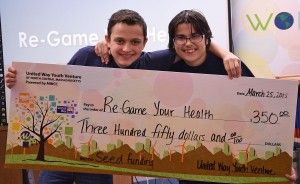 GARDNER – This fall, United Way Youth Venture of North Central Massachusetts will return to schools throughout the region to continue the great work being done by middle and high school students. The program, now starting its 13th year, works with students to help them transform their passions into independent community service projects.
Through their participation in the UWYV program, students have been able to implement instrumental change throughout North Central Massachusetts on a variety of issues including supporting foster youth in need, raising awareness about autism, and educating the youth on building positive relationships with local police departments.
United Way Youth Venture got its start in 2002 when the United Way of North Central Massachusetts, Mount Wachusett Community College, and Ashoka's Youth Venture partnered to found the program to help schools integrate youth-based social ventures into their curriculum, afterschool activities and special events.
"It is inspiring to see young people identify solutions to challenges they see in our region, then build a plan to address these challenges in innovative and creative ways," said MWCC President Daniel M. Asquino. "This program has grown exponentially over the years and serves as a model that demonstrates the power of today's youth to initiate change that benefits citizens now and in the future."
"United Way Youth Venture is very much on the cutting edge because it is tapping into the entrepreneurial power of young people who want to address important community issues," said Phil Grzewinski, President of the United Way of North Central Massachusetts During the 2014-2015 year, United Way Youth Venture strengthened its position in the community through the support of its school partners by engaging more than 4,000 youth across North Central Massachusetts. Through seed funding investments, 41 new Venture Teams were successfully started on their journey to making an impact in the local community. UWYV is run through Mount Wachusett Community College and as such creates a pipeline to higher education.
"We've enjoyed the opportunities this past year to collaborate closely with our school partners," said Lauren Mountain, Associate Director of UWYV. "The outcomes of these relationships are evident through the significant increase of students interested in forming Ventures, and also in the frequency of curriculum integration, which leverages UWYV skill development workshops to bring classroom learning to life."
Last year, the UWYV program was especially impactful at its home institution, Mount Wachusett Community College, with the launch of four new Venture Teams through the MWCC Changemakers Program, which helps MWCC students in supporting the strategic goals of the college. These engaged students, who created projects to support MWCC incoming students, local veterans and adjunct faculty, have taken great strides to enhance the college experience for both students and staff.
The UWYV program is currently offered to students at the following partner schools: Ayer Shirley Middle and High School, Murdock Middle/High School, Leominster High School & CTEi, Sky View Middle School, Samoset Middle School, Fitchburg High School, North Middlesex Regional High School, Montachusett Regional Vocational Technical High School, Sizer School, Parker Charter, and MWCC.
"United Way Youth Venture gives the power to those who wouldn't necessarily have a say in what's happening and gives them the chance to make an impact," said participant Helen Muma, now a freshman at Leominster High School.
To learn more about what is happening with United Way Youth Venture or become involved in the program, visit mwcc.edu/uwyv or email the staff at uwyv@mwcc.mass.edu