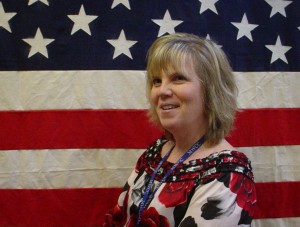 Kristine Larkin, assistant project director of MWCC's Center of Excellence for Veteran Student Success, recently received an Unsung Hero Award from Veteran Homestead, Inc., a Fitchburg-based nonprofit organization that built and operates the Northeast Veteran Training and Rehabilitation Center, located on MWCC's Gardner campus, as well as many other services and programs for veterans.
Larkin was recognized for her support and service to Veteran Homestead. She was presented with the award during an event sponsored by Veteran Homestead on Sept. 30.
"I'm thankful for being recognized," she said. "I share this recognition with my colleagues at Mount Wachusett Community College who have made my transition and success possible, as well as all of our community partners and our veteran students."
The center, established in January 2011, and other services for student veterans have helped MWCC create a culture of positive energy and enthusiasm for its military students. Established through a Fund for the Improvement of Postsecondary Education (FIPSE) grant from the U.S. Department of Education, the center is among the first 15 in the county selected to serve as national models and has become a staple in the lives of student veterans at MWCC. Support services address the unique academic, financial, social and physical needs to veterans transitioning to college life.
Collaborating with nonprofit community partners and building strong relationships with student veterans are contributing to the center's success in serving students, Larkin said.