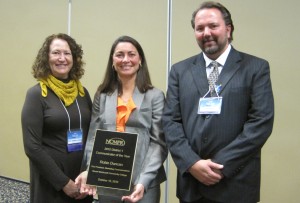 MWCC Vice President of Marketing and Communications Robin A. Duncan received the 2012 Communicator of the Year Award from District 1 of the National Council for Marketing & Public Relations. The award was presented on Oct. 15 during the district's conference in Pittsburgh, PA.
Ms. Duncan came to MWCC more than 15 years ago to transform the college's underutilized 60,000-square-foot gym into a vibrant community fitness center. Since then, she has continued to gain tremendous visibility for the college in her role as vice president of marketing and communications.
She was recognized by NCMPR as a "change-maker" who accomplishes goals by employing a big-picture vision of integrated, strategic, and results-driven marketing. Under her leadership at MWCC, blogging, tweeting, Facebook and online advertising have become key components in the communications mix, along with consistent, coverage in traditional media, a monthly radio program, and many other initiatives.
This year, she led a system-wide analysis of the marketing and communications at the college, engaging staff, faculty, students, and the greater community, which led to systemic changes, including rebranding the college, the redesign of the college's website, and incorporating analytics to more effectively measure the return on marketing investment.
The Marketing & Communications division has received numerous NCMPR District 1 Medallion and national Paragon awards, as well as a national gold Circle of Excellence award this year from the Council for Advancement and Support of Education (CASE).
An affiliate of the American Association of Community Colleges, the NCMPR is the only organization of its kind that exclusively represents communications professionals at community and technical colleges. District 1 is comprised of community colleges in the eastern U.S. from Maine to the District of Columbia, as well as in the maritime provinces of Canada and in the United Kingdom.
"Robin is a dedicated and enthusiastic ambassador for Mount Wachusett Community College, as well as a highly motivated professional who consistently delivers a positive and impactful message in support of the important work that occurs at our college," said MWCC President Daniel M. Asquino. "Her commitment to public higher education and to our college community is demonstrated by her tireless efforts to employ her communications, marketing, leadership and organizational talents."
In addition, Marketing & Communications division received NCMPR gold Medallion awards in the video advertisement category and in the student handbook category, and a silver Medallion in the brochure/flyer series category for the "We Generate" brochure series.