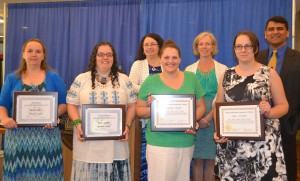 During its annual awards ceremony, MWCC's Visions and Rx programs celebrated the achievements of graduating and continuing students, welcomed back a program alumnus, and bid a tearful farewell to a longserving staff member who has taken on a new role at the college.
"We have a bumper crop of graduates this year," said Gaurav Khanna, Director of  the TRIO Student Support Services Programs at MWCC. Many of the graduates are continuing on for bachelor's degrees, with this year's graduates transferring to Mount Holyoke College, Worcester Polytechnic Institute, UMass Amherst, UMass Lowell, Fitchburg, Worcester and Westfield state universities, Nichols College, Hampshire Colleges and others.
Edwin Encarnacion, who participated in the Visions program in the mid 1990s shortly after moving to the U.S. from the Dominican Republic, shared how the program and supportive staff were instrumental in helping him excel academically, professionally and personally as he transitioned to life in a new country.  After earning a degree in media arts, Encarnacion went on to earn a bachelor's degree and master's degree in communciations and instructional technology from Fitchburg State University. He now works as a test engineer for Image Stream Medical.
"I would not be where I am today without the visions Program. I knew I had the drive to succeed, but they made the road a lot easier."
The Visions Program, which has been offered at MWCC for more than three decades, assists eligible students enrolled in any non-healthcare major. The Rx program, which focuses on supporting students pursuing healthcare majors, is graduating 35 students with associate degrees and certificates.
The programs, funded by the U.S. Department of Education TRIO grants,  help guide participants throughout the college experience and assist those who wish to transfer to a four-year institution by offering a variety of services, including intensive academic advising, transfer and personal counseling, professional tutoring and supplemental instruction. The Visions and Rx programs support income-eligible students, first-generation college students, and students with disabilities.
During the May 15 awards ceremony, graduating Visions Program students who collectively earned 55 associate degrees and certificates were recognized with a number of achievement awards. The President's Award was presented to graduating Human Resources major Renée Chandler, who will continue studies at Fitchburg State University, and the Visions Award was presented to continuing student Stevie LaBelle, who is pursuing a degree in Criminal Justice. Each will receive a $250 scholarship.
The Rx Award for a continuing student was presented to Kimberly Mertell, who plans to continue studies in Healthcare Information Management. The President's Award was presented to Rhonda Albert, who is graduating with an associate degree in Human Services and transferring to Anna Maria College to earn a bachelor's degree in Social Work.
Program mainstay Gloria Correa expressed her admiration for the staff and students, and explained she will continue supporting students in her new position within MWCC's Financial Aid office.