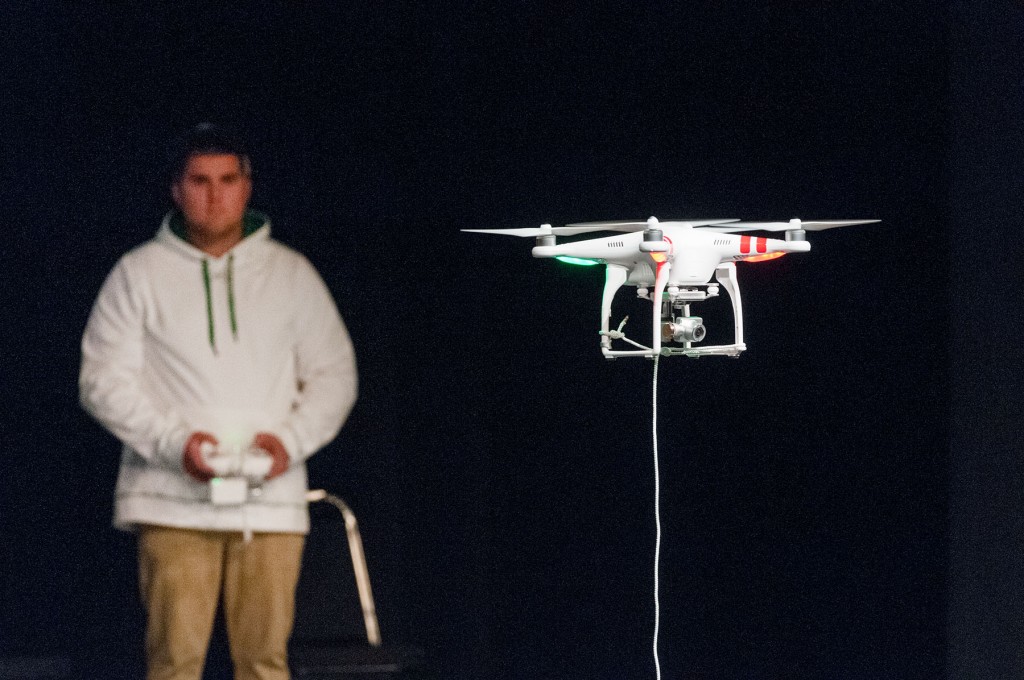 Mount Wachusett Community College lauded the 350 high school students participating in this year's Math Modeling Initiative and encouraged them to explore the opportunities available through a college education.
As part of the Oct. 29 event, students and teachers from partnering institutions Montachusett Regional Vocational Technical School, Fitchburg High School, Leominster High School and Leominster's Center for Technical Education Innovation witnessed the unveiling of MWCC's new quadcopter drone.
Through the initiative, MWCC offers the Modeling in Mathematics course to provide essential skills to high school seniors who require developmental math education. The free course emphasizes complex problem solving and the application of math in everyday life and eliminates the need for students to take remedial mathematics upon entering college.
"I want to congratulate you for getting a head start on your mathematics education and thank the faculty and staff who commit to your welfare," MWCC President Daniel M. Asquino said during his opening remarks. "Our goal is to help you become college-ready so that you can move on to earn your degrees. Math has traditionally been an impediment to students, but by being college-ready, you will be unique."
Led by MWCC Professor and Math Department Chair Yoav Elinevsky, educators from MWCC's Access & Transition and Academic Affairs divisions and LHS developed the initiative as a pilot program in 2012. After 116 LHS seniors initially took one of six Modeling in Mathematics sections, MWCC expanded the initiative for the 2014-2015 academic year to include Monty Tech and Fitchburg High.
"Congratulations on being so close to graduating high school and preparing yourself for college and the job market," Elinevsky said.
To promote the physics department and the importance of mathematics, faculty member Dr. Peter Olszak and students Adam Suzor and Casey Bortle led a demonstration of the quadcopter drone, which hovered for several minutes while displaying a live video feed.
Dean of Students Jason Zelesky, a first-generation college student, emphasized the importance of a college education as an investment in their future. Recruitment Counselor Natasha Robinson, Career/Vocational Education Transition Counselor Shaunti Phillips and Kijah Gordon, academic advisor for STEM programs, discussed the enrollment process, articulation agreements, and the college's STEM Set Scholarships and STEM Starter Academy.
In addition, chairs from academic departments, including Dan Donovan from computer information systems, John Little from media arts & technology, and Tom Matsuda from art explained their respective programs. Students from the pilot course encouraged their successors to take advantage of the program and continue their educations after graduating high school.
– Cameron Woodcock