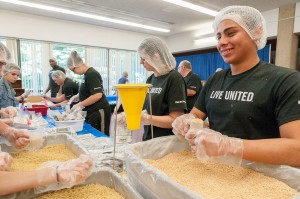 GARDNER – Packaging macaroni during the 20th annual United Way Day of Caring, Jennifer Gariepy had flashbacks to her youth.
"I actually grew up on some of these," said Ms. Gariepy, a student at Mount Wachusett Community College. "I remember eating them … recently I was down at a low point and had to go back on them, actually."
More than 100 students volunteered their time packing 21,078 bags of macaroni and soybeans with a tomato basil sauce for local food banks on Thursday. The event is one of the Mount's largest community service endeavors every year.
"It's part of the fabric of the college," said MWCC President Daniel Asquino.
Students, who typically volunteer to work an hour shift, say the event helps them appreciate what they have and boosts their self confidence.
"It feels great knowing this is going to go to people who need it," said second-year student Jason Alvarado Gomez.
To Ms. Gariepy, it feels better than great.
"It's so different to be on the other side of the table," she said. "It's so nice to help someone who has been where I have been."
When she had to go back to a food bank as an adult to support her two children, she remembered feeling disbelief.
"I thought, 'oh my god, I can't believe I have to go to a food pantry'," Ms. Gariepy said. "I came to think of it as kind of a gift from God. When you're down and out, it's okay to accept it."
This was Ms. Gariepy's first time volunteering at an event like the Day of Caring. She had heard about it from a friend and seen posters advertising it around the school.
As soon as she had the information, she knew it was something she wanted to do.
During her shift, she was all smiles as she counted out the bags of macaroni, packaged them in shipping boxes, and taped them up. It was, she said, "fairly easy work," but she knew how much it would mean to someone.
This is the Mount's third year participating in the Day of Caring. During their shift, the students packed the one millionth bag of food over the United Way of Northern Worcester County's 20 years.
"Thank you for packing these thousands of meals," said United Way President Phil Grzewinski. "By what you are doing here today, you are allowing greater food security."