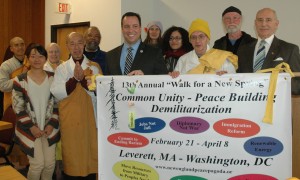 Monks and peace walkers from the New England Peace Pagoda in Leverett paid a visit to MWCC on Feb. 24 at the start of their 13th annual Walk for a New Spring to promote peace.
As in previous years, the Walk for a New Spring came to the college through the invitation of Assistant Professor of Art Tom Matsuda. President Daniel M. Asquino and Gardner Mayor Mark Hawke greeted the sojourners in the North Café. They were presented with origami peace cranes, which symbolize hope, peace and an end to war.
The walk, which uses the analogy of spring as a way to illustrate growth, began on Feb. 21 in Leverett, and will continue through 10 states before concluding on April 8 in Washington D.C.
The walk is initiated every year by Nipponzan Myohoji, New England Peace Pagoda, a Buddhist order originating in Japan that builds peace pagodas around the world. The spiritual journey includes meetings with town and city officials, faith communities, fellow peace activists, and visits for vigils and prayers at military bases, prisons and corporations that profit from war.
With talking, drumming and chanting, the group's intention is to open the way for creating change regarding issues facing the world today including climate change, poverty, the militarization of the planet and space, nuclear proliferation, and the prison industry, Matsuda said.