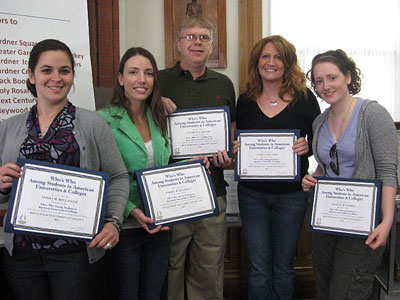 MWCC students enrolled in a range of academic programs and involved in numerous activities have been selected as national outstanding campus leaders and will be included in the 2012 edition of Who's Who Among Students in American Colleges and Universities.
The students were selected based on their academic achievement, service to the community, leadership in extracurricular activities and the potential for continued success. They join an elite group of students from more than 1,000 higher education institutions in the United State and several other countries. The tradition of recognizing noteworthy college students in a Who's Who biographical volume began in 1934.
The honorees were among the student leaders recognized by the office of Student Life during a reception held April 26 at the Gardner Museum.
Students named this year include: Jonathan DeWitt, Sarah Adams, Brenton Allen, Kyna Bell, Neisha Boulanger, Joshua Bradbury, Jennifer Brennan, Michelle Brennan, Melissa Burdett, Jason Catalano, Renee Chandler, Aaron Chatigny, Jennifer Forgues, Carly Gagne, Kimberly Geise-Disalle, Andrea Gendron, Lorren Grammont, Raymond Greeno, Colleen Grimes, Kristyn Hanifin, Caroline Horvitz, Audra Kelliher, Danette Krushel, Jessica Kwiatkowski, Christopher Kyprianos, Laura LaBarge, Sarah Lancey, Alma Martinez, Caleb Matson, Isaac Matson, Feral McElreavy, Rosemary Mruk, Jillian Reid, Elizabeth Reiser, Ann Reynolds, Heather Rick, Nicole Riel, Jesse Roberts, Seth Royer, Elora Rumbaugh, Christine Sawyer, Michelle Schrock, Julia Shields, Jonathan Skinner, Kaitlyn Therrien, Loi Tran, Ian Van Luven, Megan Wallace, Brandon Warren, Amanda White and Nicole Zichella.