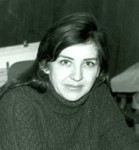 Jean C. Tandy, 1968 – 1998
Professor of Art, and Department Chair of the MWCC Art Department
In 1970 I co-authored with Dr. Samuel O'Neill a Title IX Federal Grant as the foundation for the MWCC Art Curriculum; to design the Art Studios, Art Gallery and Theater. I can't imagine a more challenging and satisfying way to spend 30 years of my life than having the opportunity to build/and teach in a two year Art program, working with gifted artists, both faculty and students, as well as invited Professional Artists; with the best contemporary studios and equipment available . And a beautiful Gallery to show both our student works, as well as area high school art in our High School Invitational and works by National artists exhibiting on MWCC's Gallery walls. To top it off a living, gorgeous Theater, right across from studios, to complete a full living place for The Arts in MWCC. Our students were/are unforgettable.
College Administrators including Drs. Arthur Haley, Samuel O'Neill, Aspasia Anastos, Richard Shine and later in my time, Dr. Daniel Asquino, gave the Art Department their trust and backing throughout my service years. They supported our continuing innovations for extending art into not only Worcester County schools and communities, but beyond, into Southern New Hampshire and Southern Vermont. My MWCC experience has been unforgettable and forever rewarding.
Upon Jean's retirement a plaque was placed in the Art Wing in recognition of her contribution to MWCC.
JEAN TANDY
POTTER, PAINTER, TEACHER, FOUNDER
OF MOUNT WACHUSETTS FIRST
ART CURRICULUM AND ITS PRINCIPAL
GUIDE FOR THE FIRST THIRTY YEARS
OF ITS EXISTENCE
HER DEVOTION TO THE IDEA OF
INDIVIDUAL WORTH AND ITS
ENRICHMENT THROUGH THE
VISUAL ARTS REMAINS ROOTED IN
THE LIVES OF THOSE WHOSE PASSION
FOR ART SHE SHARED
TO HER, ART IS A LANGUAGE
WHOSE VOCABULARY OF SHAPES AND
COLORS CARRIES A CORE OF FELT
EXPERIENCE WHICH COMMUNICATES
ITSELF DIRECTLY WITHOUT ARTIFICE
IS UNDERSTANDABLE ON DIFFERENT
LEVELS SIMULTANEOUSLY AND NEEDS
NO JUSTIFICATION BEYOND ITSELF