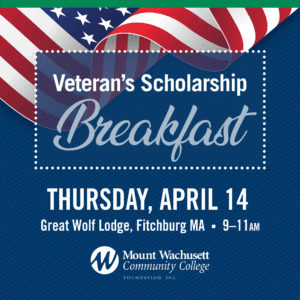 MWCC is the cornerstone of teaching and learning in North Central Massachusetts. The college offers an accessible and affordable education and provides hope and opportunity to college-bound students and career-changers of all ages and stages of life in our communities.
Over the years, MWCC has become a state-assisted, rather than a state-supported institution. The amount of state-allocated operating funds has dramatically decreased over time.
"Why did we choose to give to the students at MWCC? That is pretty easy. With the cost of higher education becoming out of the reach of many talented students, we are fortunate to have an excellent community college within easy reach."
– Anonymous donor
Did You Know?
Financial aid is not enough to cover the cost of tuition and fees for 2,773 of our students. Every gift, even a small amount, can have a life-changing impact for a student who is otherwise unable to pay for college.
Your Generosity
Thanks to the generosity of supporters like you, the Foundation distributes more than $325,000 in scholarships annually. Without these crucial gifts, many – if not most – disadvantaged students would not be able to attend MWCC.
We rely on charitable support to provide students with the educational opportunities that help them launch their lives. With your help, we can continue to do this great work!
A Very Fulfilling Feeling
"I can say it is a very fulfilling feeling knowing you have helped to educate a new generation and what better way to honor someone than to leave a lasting legacy in a loved one's name."

– Barbara Carpenter, Babineau- Johnson Scholarship Funds
Ways to Give
There are many ways to become part of the MWCC family of givers. From a cash gift to attending an event to including the College in your will or trust, we want to help find the right way for you. We gratefully accept many types of gifts. You can give via credit card or check or via gifts of stocks and bonds or other assets. You may wish to set up a monthly gift, plan to give at a special time of the year, or establish a scholarship. Any way you choose to show you appreciate the Mount will make a difference.
The MWCC Foundation is a 501 (c)(3) charity and all gifts are tax deductible. The Foundation year runs from July 1 through June 30 of the next year.
New! Amazon Smile!
Make a difference when you shop on Amazon by shopping the MWCC Foundation Amazon Smile! You can also show our Amazon Smile Charity List if you'd like to donate items we need the most.