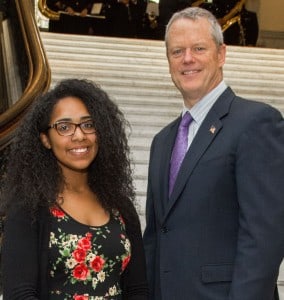 At just 18, graduating scholar Bella Ballin has already reached many milestones. Last week, as MWCC's recipient of the Massachusetts Department of Higher Education's "29 Who Shine" award, she achieved another.
"I fist-bumped the governor and that was the highlight of my day," she said with a smile.
Ballin, who will graduate from MWCC on May 18 with an associate degree in Liberal Arts: Chemical Science, and on May 20 with her high school diploma through the college's Pathways Early College Innovation School, was among the 29 public college and university honorees recognized during the sixth annual celebration at the State House. She and her MWCC mentor, Academic Counselor Natalie Mercier of the Division of Access & Transition, were recognized by Gov. Charlie Baker and top education officials during the May 9 ceremony.
"Lieutenant Governor Karyn Polito and I congratulate all 29 of the 2016 award recipients and thank them for their substantial contributions to their campuses and local communities," Governor Baker said. "Each of the 29 Who Shine honorees represent our future citizenry and workforce and have already made a positive impact on the Commonwealth."
Diagnosed at age 16 with Multiple Sclerosis, Ballin chose to accelerate the pace of her education by tapping into the opportunities available through MWCC's unique Pathways program, which has allowed her to simultaneously earn her high school diploma and an associate degree at no cost through school choice funding.
At MWCC, she has been named to the President's List every semester for maintaining a perfect 4.0 grade point average. She served as a math and chemistry tutor within MWCC's Academic Support Center, as president of the student math Club, and has volunteered at the Boys & Girls Club of Fitchburg and Leominster. Additionally, she participated in MWCC's Leadership Camp, Leadership Retreat and Women in Leadership forum. This spring, Bella was named to Who's Who Among Students in American Universities and Colleges and received the MWCC Alumni Award.
She was accepted into numerous four-year institutions and plans to transfer this fall to Carnegie Mellon University to pursue a bachelor's degree in science, then return to Massachusetts to build a career in science.
"It's exciting to see how this exceptional group of student leaders have chosen to put their brainpower and civic engagement to work in so many different ways that benefit our state — through STEM, through the arts, and through teaching, and medicine," said Secretary of Education Jim Peyser. "We wish all of them well in their next steps, whether in their careers or additional scholarly pursuits."