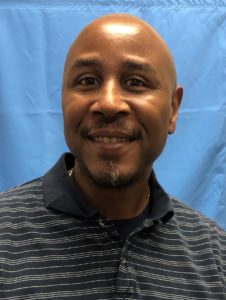 Chris Butler will be graduating on May 23 from MWCC with an Associate's Degree in Human Services. What follows is a message from him to the class of 2019.
My name is Christofer Butler, and I have the distinct pleasure to honor you, the class of 2019. To all of the single parents, to all of the first time family graduates, to the young, and to the more mature students, I honor you. As I said my name is Chris, and I am just a little country boy from Mississippi, who found his way here to Massachusetts fifteen years ago, and I have the pleasure to honor and share with you all what Mount Wachusett Community College means to me.
From the first placement test to the sincere relationships of the students, faculty, staff, and professors, we all have our stories of what Mount Wachusett Community College means to us. Some happier than others, and some that have struggled a little more with this chance of higher education. But this is part of my experience at the Mount. What does the term higher learning mean to me? To recap, some of my stories with different Professors, such as Professor Carly, who taught me how to interview other students in class, and the embarrassment of how to receive constructive criticism from other students as I viewed myself being interviewed on camera in our Counseling and Interviewing Techniques course. From Professor Stan in our Accounting course, which might have been as tough as the dreaded Statistics course that I was blessed not to have to take. To the faculty and staff of Miss Martha, Jamie, Jo-Anne, Sue and Dean Walsh, who all wore smiling faces every time a fellow student walked onto the Leominster Campus. There are many future Nurses, Accountants, and Criminal Justice majors. But I am a Human Services major myself, and am dubbed a "Baby Social Worker" by our Professors.
But I honor you, whatever your course of study, whatever you're major, and whatever your hopes are in life, let this be a stepping stone to your future. One to the success and hope of the impact that each one of us so passionately have to make on the future and our community around us a little better, with that deep-down desire to dream and to accomplish what we have studied so hard for. We as graduates have the opportunity to make life not only better for ourselves, but better for others as well.
So class of 2019, they are watching; they watched us from day one. The first time we walked into class they watched, as we took each exam they watched. And now they are welcomed to watch as we graduate this day. I honor you as you go into the world to make a positive difference in the countless lives of others. Rest assured the world will honor you too. For all of your long hours of study, they will honor you, for the painstaking mid-terms and final exams, they will honor you. But most of all you are honored for the classroom experience, by your fellow students, professors, class projects, and deep discussions in the field of your study. And I honor you all for the degrees in the individual majors of study that you are receiving today. We grow from all of the close friendships in the Leominster Campus, to the outreach projects and Food For Thought Food Pantry, on the Gardner Campus all the way to the Deven's Campus.
Take heart as you are honored this evening, Class of 2019. I say this evening go out, go out and share your knowledge, go out and share your expertise, and go out and enjoy life. What does MWCC mean to me? Besides the close knit students, professors and relationships, Mount Wachusett Community College Graduation means that you are prepared, prepared to take the next step, whether it means to continue in education, or whether you desire to enter into your individual field in the world of employment with its opportunities. We have all been prepared, with all of the laughs, all the studies, and all of the ups and downs. I honor each man and women who sits before me today; indeed I honor you. So take your position in the world, share your knowledge, be diligent, and rise to this honor . . . an honor of hope, an honor of peace, and an honor for a better future for our families and communities. We all are better prepared by MWCC, so accept your honor and overcome whatever confronts you in life, for you are all Graduates of the Mount Wachusett Community College class of 2019.