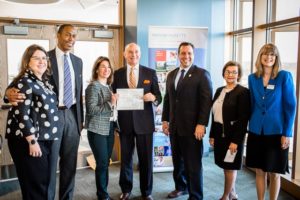 Lieutenant Governor Karyn Polito joined Massachusetts Life Sciences Center President and CEO Travis McCready, local elected officials, and officials from Central Massachusetts educational institutions, to celebrate $2.9 million in capital grant funding for regional workforce development and STEM education projects that included $1.6 million to Mount Wachusett Community College.
The grants, from the Massachusetts Life Sciences Center (MLSC), advance the Baker-Polito Administration's commitment to build a highly trained workforce and seed job creation in regions across Massachusetts.
Lieutenant Governor Polito celebrated the regional grant awards at a ceremony at Mount Wachusett Community College in Gardner. Mount Wachusett is receiving over $1.6 million in MLSC grant funding, enabling the college to renovate and equip a new medical laboratory facility, and significantly improving the quality of hands-on training for students.
"This grant from the Massachusetts Life Sciences Center will allow us to equip a state-of-the-art medical laboratory technology classroom and create a new life sciences lecture room," said Mount Wachusett Community College President Daniel M. Asquino. "These improvements will allow us to better serve numerous science, medical and liberal arts students as well as expand the medical laboratory technology program that prepares graduates for the high-demand medical and clinical laboratory technician field."
The awards are part of a statewide grant round that is delivering a total of $39 million in MLSC capital grants to 14 research and educational institutions, and 49 middle and high schools, across Massachusetts.
"Investments in the vitality of the Massachusetts workforce are critical to ensuring long-term growth in our economy," said Governor Charlie Baker. "Our ongoing efforts to deliver a high-quality STEM education to middle- and high-school students, and our focus on delivering impactful workforce training opportunities at community colleges and other institutions of higher education, will allow Massachusetts residents to access quality careers in growing fields, including robotics, advanced manufacturing, healthcare, and biotechnology."
In addition to the $1,646,787 grant to MWCC, Dean College and Framingham State University also received $297,030 and $454,000. Additionally, seven area high schools received $487,543 in funding for labs and other STEM-related improvements.
"The MLSC continues to make major capital investments to support education and training at academic institutions across the entire Commonwealth in order to meet the workforce needs of our state's fastest-growing industry," said Travis McCready, President and CEO of the MLSC. "Our capital grants will enable Mt. Wachusett Community College, Framingham State University and Dean College to significantly enhance their capacity for workforce training, so that our students will be better prepared for career opportunities in the life sciences. Through our STEM equipment and supply grants, area high schools and middle schools will be better positioned to connect students with jobs in the fast-growing Massachusetts life sciences ecosystem. In both cases, we are excited to play a role in supporting economic growth and workforce preparedness in Central Massachusetts."
The MLSC's Competitive Capital Program, from which funding for the college's was provided, funds grants for capital projects that support the life sciences ecosystem in Massachusetts by enabling and supporting life sciences workforce development and training, research and development, commercialization and manufacturing in the Commonwealth. The program funds high-potential economic development projects by nonprofit entities that make significant contributions to the state's life sciences ecosystem. To date, the MLSC has awarded or committed more than $405 million to support capital projects across the state.