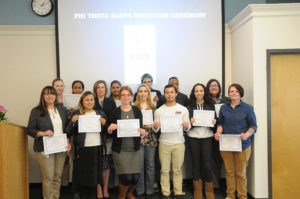 MWCC's Phi Delta Chapter of the Phi Theta Kappa international honor society inducted 56 new members and presented sizeable donations to community service organizations on Tuesday.
During the chapter's induction ceremony on April 25, Gardner Mayor Mark Hawke dispensed wisdom he had crowd-sourced, including advice to always do the little things a little bit better and that it pays to not always follow the money and instead take into consideration quality of life. However, as he closed the MWCC alumnus imparted his own piece of advice upon the students.
"It's within you. All you have to do is try your hardest, do your best and be kind to each other," said Mayor Hawke.
In addition to the ceremony, chapter officers and members presented a $750 check to the Gardner Community Action Council and a $750 check to the student-run Students Serving Our Students program at MWCC. The funds were raised at the recent PTK Character Breakfast.
Founded in 1918, Phi Theta Kappa recognizes and encourages the academic achievement of two-year college students and provides opportunities for personal, academic and professional growth through participation in honors, leadership, service and fellowship programming.
This year's new inductees include:
Ashburnham
Jessica Decker
Lynne Galvin
Athol
Cameron Raymond
Ayer
Linda Suy
Baldwinville
Laura Lyman
Clinton
Megan Ballenger
Katharine Osborne
Fitchburg
Nicole Forsythe
Trevor Leger
Isabella Lillie
Nathan Pierce
Gardner
Leslie Ackers
Ifra Hassan
Amanda Johnson
Erin Jones
Katie Lockwood
Greenfield
Katherine Newell
Groton
Shannon Belanger
Jeffrey Martin
Hubbardston
Alison Germagian
Eden Shaveet
Brianna Stevens
Hyde Park
Jerica Washington
Jaffrey, NH
Rebekah Chiasson
Katrina Ung
Leominster
Stacy Ciccolini
Bonnie Corbett
Sharie Melendez
Job Ogega
Leatitia Sagwe
Shauna Soroka
Gemini Walter
Lunenburg
Patricia Adams
Christina Bernatchez
Marlborough
Evangelia Sunberg
New Ipswich
Ashley Traffie
Orange
Benjamin Gilmore
Ellie Harris
Matthew Waite
Nicole Wetherby
Peterborough, NH
Adam Fortier
Ashley Silverman
Princeton
Ella Walsh
Royalston
Heidi Warren
Rutland
Margot Friis
Springfield
James Mugwanja
Templeton
Paula Rosario
Townsend
Kathryn Schatia
West Townsend
Jaimie Wojtkowiak
Westford
Cari Arnott
Westminster
Lisa Ferrara-Caron
Ellen Howard
Winchendon
Michel Cocuzza
Worcester
Terrance Ford
Opeyemi Odewale
Cassandra Tousek