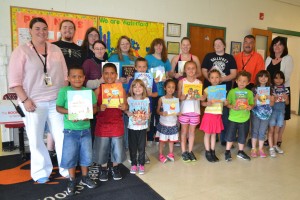 Hundreds of kindergarten and first grade students at Waterford Street School will end the school year with fun summertime reading, thanks to a donation from a group of Mount Wachusett Community College students.
Members of Otaku United, a club that celebrates Asian culture, including art, language and anime, raised more than $1,000 during the spring semester by conducting a silent auction of a wide range of gift cards and items donated to the club to support the cause. Proceeds from the auction were used to purchase age-appropriate books for the students from the Scholastic Reading Club.
Each kindergarten and first grade student received two books and a book mark.
"We're pleased they want to promote early childhood literacy and we're so appreciative that they thought of our school," said Waterford Guidance Counselor Terry Burnham. "The children will be thrilled to have two books to keep."
The club donated an additional 50 books to the Garrison Center for Early Childhood Education at MWCC, said club president Heather Chadsey. "Our club has a tendency to do what we put our minds to," she said.