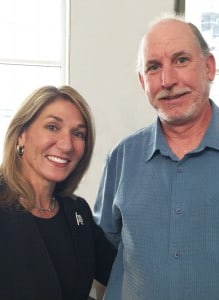 Mount Wachusett Community College's Theatre at the Mount is the recipient of a $49,600 grant from the Massachusetts Cultural Facilities Fund to update its sound system.
The Massachusetts Cultural Facilities Fund, administered through a partnership between MassDevelopment and the Massachusetts Cultural Council, fosters the growth of the creative economy by supporting building projects in the nonprofit arts, humanities and sciences. This new round of funding includes 68 capital grants totaling $8.9 million and 23 planning grants totaling more than $400,000. Grants range from $7,000 to $300,000 and are matched from private of other public sources.
The grant, which will be matched by MWCC, will be used to replace the theater's aging analog sound system. The updated digital sound system will improve the audience experience, particularly for patrons who require hearing assistance or other special needs.
"Making high quality theater affordable and accessible for everyone is our highest priority," said Professor Gail Steele, director of Theatre at the Mount. "This grant will allow us to make major strides in achieving our goal."
The award was announced during a reception in Worcester on Thursday, June 23 with Lt. Governor Karyn Polito. Jeff Boisseau, technical director and set designer, and Joseph Stiso, vice president of planning, development and institutional research, accepted the award on behalf of the college.
"Our administration is proud to support these capital investments in the creative economy," said Lt. Governor Polito. "The rich history of our cities and towns is an important draw for out-of-state visitors, and these grants will help direct private investments into these projects."
Now entering its 40th year, Theatre at the Mount is in the midst of a makeover, including a new lobby, box office and ADA improvements as part of a $41 million addition and renovation project to the Gardner campus.
"We're very grateful to receive this grant," Boisseau said. "We're hoping to have these new features installed before we reopen later this year."
Located in the college's Raymond M. LaFontaine Fine Arts Center, Theatre at the Mount serves the community as a premier regional theater presenting high quality entertainment at affordable prices. TAM's season consists of five full-scale musicals and plays, a spring children's show and a fall touring production performed at local elementary schools. Additionally, TAM offers summer drama programs for children and teens and sponsors the annual TAMY Awards program, which celebrates excellence in high school musicals.
In a statement earlier this month, Gov. Charlie Baker noted the new investments will drive tourism and benefit residents and visitors for years to come. Since 2007, CFF has invested nearly $92 million in the state's creative sector for projects in more than 130 cities and towns.
"We thank Governor Baker and his administration for its continued support of this vital source of creative capital," said Anita Walker, executive director of the Massachusetts Cultural Council.
The grants are highly competitive. In this round of funding, the state received 146 applications seeking nearly $25 million for projects with total development costs of more than $200 million. Steele, Boisseau and Grant Writer/Development Specialist Moira Adams are the lead investigators for the project. In 2013, Theatre at the Mount received a $30,000 CFF grant to replace its lighting system.
Upcoming Theatre at the Mount productions include Almost, Maine on June 24, 25 and 26, and Hairspray on Aug. 12, 13, 19, 20 and 21. Due to current construction, these performances will take place at Oakmont Regional High School in Ashburnham. For more information, visit mwcc.edu/tam or contact the box office at 978-630-9388.