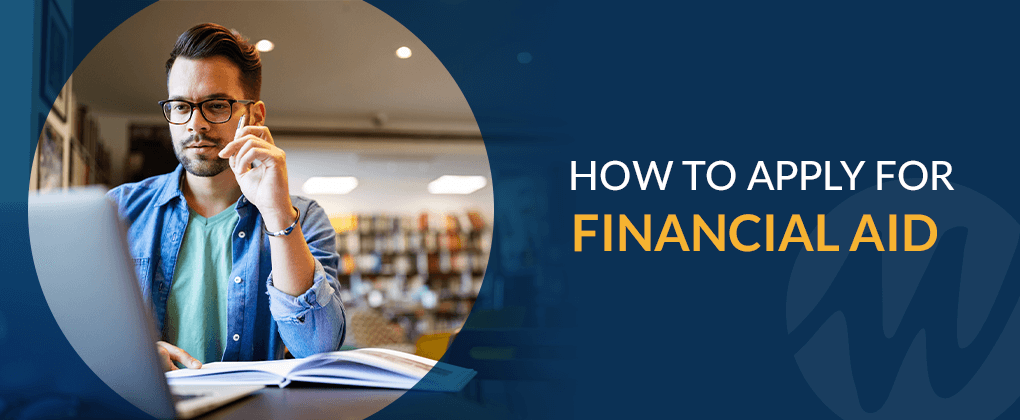 Nearly $120 billion in federal student aid is given to students every year in the form of grants, work-study opportunities and loans. However, figuring out how to access those resources is challenging for many students, especially the first time.
Applying for financial aid doesn't have to be hard. Understanding where and how to apply for financial aid ensures you get the funding to assist in paying your tuition and expenses. Let's look at all of your assistance options and how you can apply for them.
Types of Financial Aid
Getting an education is costly, but it's one of the best investments you can make. Fortunately, there are various financial resources to help support your educational goals. The most common sources of financial aid include:
Grants: A grant is a source of financial aid you don't have to pay back except in rare cases when additional requirements are attached. There are a variety of federal and state grants available to students who meet certain criteria. The college or university you attend may also offer additional grants.
Scholarships: Scholarships are another source of "free money" that you don't have to pay back. Many nonprofit and private organizations fund scholarships to help students pay for their education. They're often awarded based on academic achievement, athletic performance, special talents or the type of degree you're seeking. Many students rely on a combination of financial aid and scholarships.
Work-study: Federal work-study programs allow students to work part-time to earn money for college. The employment opportunities must benefit the public interest and are often related to civic education or your field of study.
Loans: Eligible students can borrow money from the government or private financial institutions. If you accept a loan, you're responsible for paying the money back with interest whether you graduate or not. If you're considering a loan, make sure you understand the interest rate and repayment options before accepting.
Military aid: There are special financial aid programs for veterans, active-duty personnel, future military personnel and children or spouses of active-duty personnel.
Aid for international study: Federal student aid may be available for eligible study-abroad programs if you plan to complete part of your degree in another country.
When Should You Apply for Financial Aid?
Students can fill out the FAFSA form starting October 1st of their senior year of high school and each subsequent year in college. The deadline to apply is June 30th, but students should file much sooner since college and state deadlines are often months earlier. Plus, some budgets are distributed on a first-come, first-serve basis. Applying early ensures you receive the maximum aid possible.
Scholarships and grants from your high school and community have their own unique deadlines throughout the year. Students should start applying to as many scholarships as they can throughout their senior year of high school.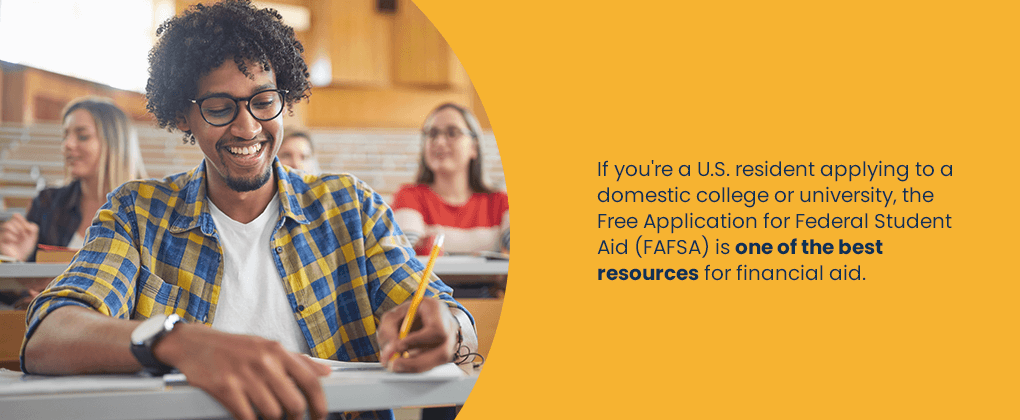 How to Apply for FAFSA
If you're a U.S. resident applying to a domestic college or university, the Free Application for Federal Student Aid (FAFSA) is one of the best resources for financial aid. It awards state and federal funding based on financial need. Here's an overview of the FAFSA application process:
1. Gather Your Documents
To prepare for October 1st, collect the following information so that you have everything you need to submit your application right away:
Your social security number
Your parent's social security number
Your alien registration number — if you're not a U.S. citizen
Your driver's license number — if you have one
Federal income tax records for you and your parents
To make the process faster, you might be able to transfer your federal tax information to your FAFSA application using the Internal Revenue Service (IRS) data retrieval tool.
2. Fill Out the FAFSA Form
Navigate to the Federal Student Aid website to complete your FAFSA form. Before you begin, choose a username and password to create an FSA ID. An FSA ID allows you to access the website from the mobile app, sign loan contracts and access your information online. It's the most convenient way to sign your application so it can be processed.
Anyone with your FSA ID can access and make changes to your account, so make sure you keep it private and secure. You'll use the same FSA ID to renew your FAFSA every year.
Colleges use your FAFSA form to determine your eligibility for their financial aid programs. Make sure you include all of the schools you're considering — even if you haven't applied or been accepted yet — so they receive this information in a timely manner.
3. Review Your Student Aid Report
When you submit your FAFSA, you'll receive a Student Aid Report (SAR). Carefully review the SAR and make sure it's correct. When your application is complete, the SAR will display your estimated family contribution (EFC). Otherwise, you may need to make corrections.
4. Accept the Aid You Need
Once your FAFSA is complete, your school will eventually send an aid offer listing all the scholarships, grants and loans you qualify for. Review the offer and accept the aid that you want. Start with the "free money" first, like scholarships and grants that you don't have to pay back. Then, consider work studies and federal student loans.
5. Receive Your Financial Aid
Most schools release grant and loan money in two payments — one before the fall semester and another before the spring semester. The type of aid you accept impacts when you receive your money. If you've accepted a loan for the first time, it may take 30 days after the semester begins before you receive your loan money.
6. Reapply Next Year
Reapply every year to receive another financial aid package. Certain parts of the form will be prefilled to make the process easier. Update any information that may have changed from the previous year.
What Does Financial Aid Cover?
When your school disburses your financial aid they typically apply it directly to your bill for tuition, fees and room and board if you live on campus. Any leftover money is paid directly to you for other educational expenses. You could use it to buy textbooks, school supplies, food or anything else you need while you're in college.
If there's money left from a loan and you don't need it, you can cancel all or part of the loan within 120 days to avoid paying any interest or fees.
Apply for Financial Aid at The Mount
At Mount Wachusett Community College (MWCC), we strive to make higher education affordable for everyone. Our excellent professors provide the same quality education as a four-year university for a fraction of the price.
In addition to receiving federal student aid through the FAFSA, MWCC students can apply for our scholarships and grants. Plus, we have a variety of student services to provide the support you need to be successful.
Contact our student financial services team today at 978-630-9169 for assistance planning your financial aid.